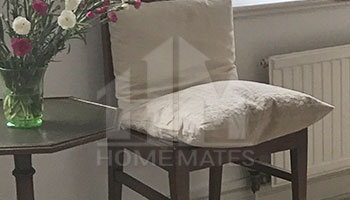 We belong to UK cleaning industry and we operate a cleaning company from the central region of the London city. Its head office is magnificently placed close to the Holloway, N7 area inside the UK capital region. We understand that piled up household chores can cause frustration to any person because if an individual does not have enough resources, time, or physical capacity to property execute the daily chores, they can't lead a happy life and they might feel helpless. If you are a London resident and getting frustrated due to the tiring household chores, contact us and hire a proficient housemaid.
Nedka
is in her early 50's and she is one of our finest cleaners. The saying 'Age ain't nothing but a number' defines her.
Daisy
is challenging herself in order to become an expert. She is practicing her skills on daily bases and do not accept anything but sparkling home.
Galina
is one of our brightest cleaners. Fond of household pets and children. Galina works quickly and up to a high standard.
Yulia
is a brilliant cleaner, who works quickly and catches on to each and every one of our customers' needs.
Home Cleaning in Holloway from HomeMates
Have you thought about what the life would look like if you haven't got married, haven't got three kids and tried to be omnipotent working mother and wife at the same time? Well, for one it would have been much easier for you- but we propose you something that will help you a little bit by providing more free time for you- our house cleaning services. You can call us or you can visit us in Holloway, N7, London an order a personal cleaner. Our employee will take care of your home- will clean everything from the kitchen to the bathroom, including washing the dishes and the laundry. And by doing this- you will have more time for you, for your children and husband.
E-mail us at info@homemates.co.uk or call us on 020 3745 4377 and our customer care team will gladly explain you even the smallest details about our cleaning services.
Domestic Cleaners in Holloway
Cleanness in our homes talks a lot about our personality. If you want your guests to admire the purity at your house, call us. We can save you time and efforts at very affordable prices. Our professionally trained maids are capable of making your whole home clean and sparkling, inside and out. Don't hesitate to contact us to inquire home cleaning service for the area of Greater London and Holloway, N7. We are on your availability, no matter if it is a weekday or a weekend or ever an official holiday. Let us show you our abilities. Let us satisfy you.
HomeMates Cleaners Holloway, N7
If you want to come back from work to a perfectly cleaned homed, than you have to get in touch with us. We offer you affordable prices and high quality. Our home cleaning is based on your exact needs and will complete all of your requirements. And all this without the effort of doing it by yourself. We cover the area of Holloway, N7 and all other in Greater London. Feel free to get in touch with us every day, no matter if it is a weekend or even a holiday. Trust us, and let us prove you all this!