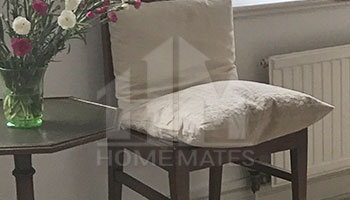 We know that regular house cleaning is a tough job. So, most of the London residents require a domestic help. Professional house cleaning is a sought after service in the city and it involves a lot more than just dusting the surfaces and wiping down the counter tops. It is about understanding all the requirements of a client and keeping their entire house in clean & hygienic state all the time. At our residential cleaning company in Kingston Upon Thames, KT1, London, highly capable, experienced, proficient domestic cleaners are available to be hired for domestic cleaning – they know everything about domestic cleaning.
Nedka
is in her early 50's and she is one of our finest cleaners. The saying 'Age ain't nothing but a number' defines her.
Daisy
is challenging herself in order to become an expert. She is practicing her skills on daily bases and do not accept anything but sparkling home.
Galina
is one of our brightest cleaners. Fond of household pets and children. Galina works quickly and up to a high standard.
Yulia
is a brilliant cleaner, who works quickly and catches on to each and every one of our customers' needs.
Home Cleaning in Kingston Upon Thames from HomeMates
Would you like to find the best house cleaners in Kingston Upon Thames, KT1 who are capable of making your home especially tidy and sanitary just in a matter of hours? You already found us and we are here to offer you our incredible service which is in competition with the top cleaning teams in London. If you decide to go with our team, your house will be maintained with the latest cleaning technology and the most powerful detergents out there. Your place will be truly cared of by real professionals who know what it is best for any home and provide it.
E-mail us at info@homemates.co.uk or call us on 020 3745 4377 and our customer care team will gladly explain you even the smallest details about our cleaning services.
Domestic Cleaners in Kingston Upon Thames
When you first started living with your husband we supposed that you declined his proposition to hire somebody that will help you with the cleaning and the rest of the household chore. You deemed it impossible to let some stranger come to your house and touch your furniture, dishes and clothes. Well, you know already know that this was a big mistake as it is really hard to keep everything as it should be without any help. So we propose you our house cleaning services and you can choose your particular cleaner and we ensure you that he/she will be the only one coming to your house. We are situated in Kingston Upon Thames, KT1, London but it will be easier for you if you contact us through the call centres.
HomeMates Cleaners Kingston Upon Thames, KT1
Certain areas of a house are know to be difficult areas for cleaning, for example, kitchen, bathrooms etc. Kitchen accumulates enough grease and dirt and bathrooms are also considered as notorious areas of a property since a lot of filth gets accumulated within the bathroom areas over the years. Our house cleaners are capable of discovering the heavily stained areas of your house and it will take only a few minutes for them to remove the stubborn stains from all those areas. Get those expert cleaners booked from our agency which is magnificently situated close to the Kingston Upon Thames, KT1 area inside London.