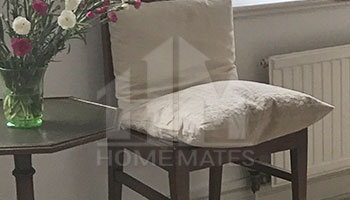 Do you want to go on holiday with your girlfriends and leave your husband and children here in London? Yes, of course, you want but just the prospect of leaving the house to teenagers who cannot wash the dishes even in the dishwasher sound terrible. Do not fear anymore- you can place and order for house cleaning in our Ladywell, SE4 situated company and our professional staff will take care of the cleanliness of your house while you are gone. You will come back from the holiday well rested, suntanned and to a clean house- there is nothing better than this.
Nedka
is in her early 50's and she is one of our finest cleaners. The saying 'Age ain't nothing but a number' defines her.
Daisy
is challenging herself in order to become an expert. She is practicing her skills on daily bases and do not accept anything but sparkling home.
Galina
is one of our brightest cleaners. Fond of household pets and children. Galina works quickly and up to a high standard.
Yulia
is a brilliant cleaner, who works quickly and catches on to each and every one of our customers' needs.
Home Cleaning in Ladywell from HomeMates
Don't break your back doing the tedious household chores everyday, particularly when you have a good alternative available in your city. We administer a residential cleaning services firm that is fantastically situated in the most active commercial region Ladywell, SE4 in the London city. We know you have lost your peace of mind because of the tiring domestic chores, so, we have trained our domestic cleaners to offer a whole range of domestic cleaning services to London residents like you. These services are reasonably priced, so, there will be no extra load on your pocket and you would be able to manage the money for the service.
E-mail us at info@homemates.co.uk or call us on 020 3745 4377 and our customer care team will gladly explain you even the smallest details about our cleaning services.
Domestic Cleaners in Ladywell
We all face great difficulties trying to be successful both on career and on domestic level. However, it is almost impossible to be perfect on both fronts and usually it is the domestic level that is left behind. We do not find enough time to clean deeply everything and our house is not this cozy place you want to be in where you come back from work. That is why you should entrust our house cleaners at least with the cleaning of the house. You can find us in Ladywell, SE4 and in a lot of houses around Greater London. For additional information you are welcome to use the phone number given.
HomeMates Cleaners Ladywell, SE4
We are a company that is the perfect choice for all types of residential/commercial cleaning requirements of the London residents. It is a cost-effective and convenient way to contract a cleaning company that is able to handle your different types of commercial cleaning and residential cleaning needs. Thus, our company that exists in the flourishing commercial zone Ladywell, SE4 in the London city, has emerged as a leading cleaning services provider in London. Our police-checked, reference-checked, extensively trained domestic cleaners are adept at cleaning utensils, cleaning appliances, cleaning glass surfaces, doing the laundry, ironing, cleaning the furniture, and handling other domestic chores.