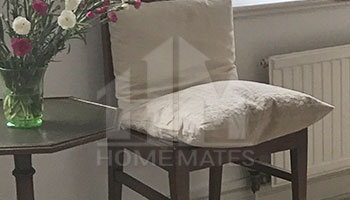 Within London, close to the Primrose Hill, NW8 area, our cleaning company is situated; this company is offering a full gamut of house cleaning & maintenance services to all areas of the city at affordable rates. We realise that communication should be easier between you and your domestic help, so, we try to properly understand all your specific requirements and select a suitable housemaid for you. It will be easy for you to build rapport with the domestic cleaner that is supplied to you from our residential cleaning company. We are determined to take all required actions to establish the credibility of our domestic cleaners.
Nedka
is in her early 50's and she is one of our finest cleaners. The saying 'Age ain't nothing but a number' defines her.
Daisy
is challenging herself in order to become an expert. She is practicing her skills on daily bases and do not accept anything but sparkling home.
Galina
is one of our brightest cleaners. Fond of household pets and children. Galina works quickly and up to a high standard.
Yulia
is a brilliant cleaner, who works quickly and catches on to each and every one of our customers' needs.
Home Cleaning in Primrose Hill from HomeMates
A lot of people say "Life is too short for housework" and they may be right. If you think so too, grab the phone and call us. Our company is here to do everything instead of you. We offer you our professional home cleaning service at the best prices for all regions of Greater London and Primrose Hill, NW8. While our maids are cleaning, you could relax and do things you enjoy. They are ready to clean your place anytime, Monday to Sunday, including public holidays. Just contact us to arrange your home cleaning service. We guarantee you will be satisfied!
E-mail us at info@homemates.co.uk or call us on 020 3745 4377 and our customer care team will gladly explain you even the smallest details about our cleaning services.
Domestic Cleaners in Primrose Hill
According to a recent research one of the most annoying types of cleaning is the house cleaning and this is why many people are often skipping through it. This might lead to some really bad consequences simply because sooner or later the property will not look as good as you wish it to be. If you happen to live in Primrose Hill, NW8, London and you want to make sure that professional house cleaners will take care of your place – then we are the right answer, so pick up the phone and give us a call.
HomeMates Cleaners Primrose Hill, NW8
If you are tired from all the ironing and dusting, it is high time you hired house cleaners that will help you with this no easy task. Our professional cleaners will help you in the dusting, vacuum cleaning, and ironing, the cleaning of the kitchen appliances and the bathroom as well. There is no reason why you should not rely on us for these activities. Our members are trustworthy and friendly and are also seeking instruction so that they can best satisfy your particular needs. We can be found in every London district; more specifically we are situated in Primrose Hill, NW8. However, for your facilitation we have established call cetres which you can contact.