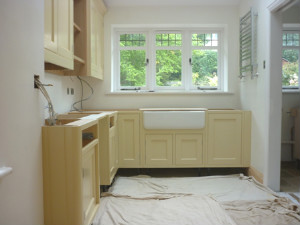 Our company provides among other services, excellent kitchen decorating service. The kitchen decorating technicians, working for us, will make your kitchen painted with the most qualitative and durable of temperature changing paints, applied professionally and lasting long time.
Our kitchen decorating service is only one of the professional painting and decorating services offered by HomeMates in London and Greater London.
Arrange professional viewing by sending us an e-mail at info@homemates.co.uk or by giving us a phone call on
020 3745 4377.
Decorating Services Prices
| Painting, Decorating and Wallpapering | Painting, Decorating and Wallpapering | Tiling and Plastering Services | Tiling and Plastering Services |
| --- | --- | --- | --- |
| | | | |
| Free Quote | Free Quote | Free Quote | Free Quote |
Kitchen Decorating from HomeMates
The kitchen decorating service we offer include these consecutive steps:
selecting the colours in which your kitchen will be painted, according to the effect you want to achieve
choosing a paint finish – the semi-gloss finish is appropriate for the kitchen walls
clearing the kitchen from all the machines, devices and smaller or bigger cooking, cooling and other appliances, so that they won't be an obstacle for the painting work
protecting all wooden surfaces and floors, covering them with drop cloths and using a painter's tape for sills and frames
removing the old paint from the walls and other surfaces and prepare the walls, removing of the old wallpapers, cleaning the holes in the walls from wastes
filling out all holes and surface cracks on the walls with one or two layers of the proper materials, according to every wall
cleaning the surfaces of the ceiling and the walls starting from the top and moving to the bottom with a sponged mop and a TSP or other detergent in accordance to the manufacturer's recommendations
rinsing the ceiling and walls after the cleaning and letting them dry out well
removing all the dust and grime from the kitchen, vacuum cleaning everywhere
painting the walls, ceiling, woodwork and other surfaces with one or two layers of the appropriate paint, depending on the need
using a primer over drywall, plaster and wood to seal and protect the paint and make it last longer
The primer is used for a professional finish, protecting the paint and making it richer. For each surface applied to, our kitchen decorators will choose the proper type of primer: high hiding, stain blocking, bonding, bare wood, spray primer or latex primer-sealer. If repainting walls, wooden surfaces and if you don't plant to make essential changes in the colours, primer isn't applied as it is not necessary.