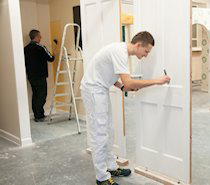 HomeMates is occupied with painting and decorating. We offer customers interior and exterior painting for businesses and residential buildings.
Our service involves:
Floor painting
Renovations
Decorating paint effects
Paint stripping
Protective coatings
Insurance work
Arrange professional viewing by sending an e-mail at info@homemates.co.uk or by calling us on 020 3745 4377.
Decorating Services Prices
| Painting, Decorating and Wallpapering | Painting, Decorating and Wallpapering | Tiling and Plastering Services | Tiling and Plastering Services |
| --- | --- | --- | --- |
| | | | |
| Free Quote | Free Quote | Free Quote | Free Quote |
The process of painting is a serious job. Generally, it can be divided into pre-inspection, surface preparation and painting. The first step is to examine the surface that needs painting. It has to be dry. Checking for water seepage or incidence of dampness is extremely important as it will determine the effectiveness of the procedure.
Job Preparations
All water and dampness problems must be solved before the painting. It is also important to check the surface for loose plaster. A tap on the wall says it all. If the sound is hollow, it means there is loose plaster and something has to be done.
The next step is to prepare the surface for painting. Newly plastered surfaces which have been applied a coat of lime ash have to be left to mature for at least half a year. Any paint flake or loose particle should be removed before painting. Previous coatings are scraped off. If the coatings are of synthetic emulsion paints or oil paints, they don't have to be removed. All cracked paint is removed too. If the area is affected by fungus, it has to be treated before painting.
Job Process
Then comes painting. First, a coat of wall primer is applied. Putty is applied to fill minor undulations.
Finally, a top coat is applied.
Before the painting begins, our technicians can pay special attention to some areas, especially to roofs, where cracks can be a risk factor for the paint. Our professionals will also advise you if it would be appropriate to use additional services like Wallpapering, Tiling and Plastering.
We will also be happy to provide colour scheme consultation.