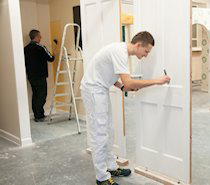 Book painting and decorating service for your home or office in Cricklewood, NW2 with HomeMates. Our experienced painters and decorators will decorate your property according to your needs.
If you need to paint your home, count on our skilled professionals to get the job done for you. We are occupied with painting and decorating and have a very good reputation in Cricklewood NW2. Our business started a long time ago and throughout the years we learned a lot. Our experience and competences are our best feature.
We value our customers and try our hardest to keep all their requests and expectations satisfied at all times. If you are interested in our service, we suggest you get in touch with us either via email or by phone. We will be happy to help you paint and decorate your home to your taste. Get a free quote.
Arrange professional viewing by sending an e-mail at info@homemates.co.uk or by calling us on 020 3745 4377.
Decorating Services Prices
| Painting, Decorating and Wallpapering | Painting, Decorating and Wallpapering | Tiling and Plastering Services | Tiling and Plastering Services |
| --- | --- | --- | --- |
| | | | |
| Free Quote | Free Quote | Free Quote | Free Quote |
Painting and Decorating in Cricklewood by HomeMates
Our company can help you achieve long-lasting results when it comes to painting and decorating. You can count on us to freshen your home and improve its appearance a great deal. If you live in Cricklewood NW2, take a look at this:
We carefully plan each aspect of your painting and decorating
The paints we use are the best quality available on the market
We can consult you on the design of your project
We always leave your home the way we found it
Here is a list of all the services we provide in Cricklewood
When we arrange a consultation, we will send our qualified professionals to your home to discuss all your goals with you. They will want to know your expectations and ambitions. They have to take a look at the property to tell you what can be done. What's more, our consultants can even offer you a few designs that will fit best the interior or exterior of your home.
Painters and Decorators in Cricklewood NW2
You can select the best paints from a catalogue. Once you do, we will purchase all the materials and bring them to your property. The work will start immediately. We will paint and decorate every room you want, providing the best quality of workmanship and ensuring the best results.
We are qualified to do painting and decorating, so there is no need to worry – your property is in capable hands. We have plenty of experience in this business and we hold several certificates. We hope you come to see us as a company that you can trust at all times to do the painting you need. Our business is based in Cricklewood NW2. If you have any questions, we'll be glad to answer them. Give us a call now.