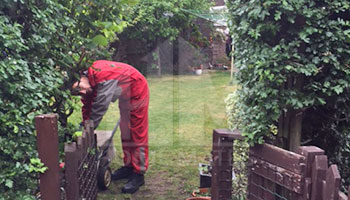 HomeMates provides various gardening services in Cricklewood NW2. Our gardeners can offer you lawn mowing, hedge trimming, tree pruning and other gardening services.
When it comes to garden maintenance, our company takes it very seriously. We offer various gardening services in Cricklewood NW2 and we are at your service during all seasons.
Nick
has been working for our company for 3 years as a Professional Gardener. With 10 years experience in the field he managed to cover more than 3500 addresses.
Vesko
works for our company for 1 year already. As he is specialised in shaping the bushes, lawn mowing and grass cutting, he helps to numerous Customers to maintain their gardens on daily bases.
Gardening Services Cricklewood from HomeMates
These are the services we offer to our customers:
Landscaping
Weed removing
Turf laying
Mulching
Hedge/ bush trimming
Pest control
Lawn mowing
Tree prunning
Garden cleaning
Aerating
Preparing your plants for the winter season
We can help you have your garden look fantastic because our gardeners are experienced and equipped with the right tools, which guarantees that the job will be done properly. Call an operator now for more information about the services we provide.
If you have any enquiry or if you would like to get a quote, just give us a call on 020 3745 4377 or send us e-mail on info@homemates.co.uk!
Gardening Services Prices
Here is a list of all the services we provide in Cricklewood
If you want to protect your plants from severe weather conditions or insects, if you want the bushes to look good, then you need to spend a lot of hours taking care of them. Now, you can just hire our professional gardeners who will do the dirty job for you. The only requirement is to live in Cricklewood NW2.
Our gardeners use only high quality tools and non-toxic garden materials. Keeping your plants healthy is easier said than done but you can be sure that we know how to do the job right. Each one of the procedures above needs to be done timely so if you want just to enjoy the beauty of your garden without making your hands dirty, book for our gardening services and we will come just on time for removing the weeds that make your plants fade away. We can also take care of the overgrown bushes and hedges.
Professional Gardening in Cricklewood NW2
A lot of customers complain about how difficult it is to remove the weeds grown between the patio tiles but if you hire us, we will apply an effective and eco-friendly method.
All that comes at a cost – effective price and we guarantee excellent result to all our customers. When the job is done, we will not leave you clean the mess on your own. Our gardeners will collect and dispose the debris for your convenience.
You can find us working in Cricklewood NW2 every day of the week with a flexible schedule. We can be on you address soon after your call – uniformed, equipped and ready to work. Call an operator now and hire our team of professional gardeners.