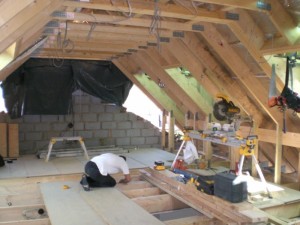 Professional loft conversion services in Cricklewood, NW2 provided by HomeMates. Increase the living area of your house with our loft conversion service. Call now!
If you want to make your home or commercial property more luxurious and ensure the necessary facilities for your family or lodgers, you can rely on our company to provide you the loft conversion you need. Our team of builders, architects, roofers, plumbers, electricians and carpenters will turn your loft into the type of room you need most.
Our work complies with the requirements of the local authorities. We can offer you the most appropriate type of loft conversion, suitable for your estate, according to a number of factors. Call us or use our e-mail to schedule your loft conversion for a preferred date and time. Our company is located in Cricklewood NW2.
Contact HomeMates at 020 3745 4377 or at info@homemates.co.uk.
Building Services Prices
The prices can vary greatly depending on the size of the property and materials used. We strongly recommend to fill in the form or call us for a free quote.
Loft Conversion in Cricklewood from HomeMates
Our loft conversion services in Cricklewood will offer you some extra rooms in your home or property for rent. If you use them you will have:
More living area, without taking your garden, patio or other outdoor area
Increased rental income every month from your property for rent
Your home will be more valuable and luxurious with the extra rooms you and your family have always wanted
The new loft rooms you will have can be connected to your home with a stair case for easier access
The style of the loft will match the existing design of your property
Here is a list of all the services we provide in Cricklewood
You can rely on our architects and builders to transform your loft into an additional bedroom with bathroom, playroom, study, office, living room. Your project will be planned and illustrated with drawings by some of our architects. They will plan your loft conversion so that it will have no problems receiving the approval of the local authorities in Cricklewood NW2. The building, decorating and structural changes in the roof and loft will be done by skilled roofers, bricklayers, carpenters, plumbers, electricians and decorators. Your new room will be accessed easily with additional stairs.
Loft Conversion Services in Cricklewood NW2
If you need professional loft conversion services, you can rely on our company. It has implemented plenty of such projects, including various types of loft conversion. They are done according to the budget each customer has and his ideas and preferences. Use them to make your home spacious and comfortable enough for your family or tenants, without sacrificing your outdoor area. Our company works every day in the week from Monday to Sunday. If you live in or near Cricklewood NW2 and need loft conversion for your property, use our call centre or website to book it.