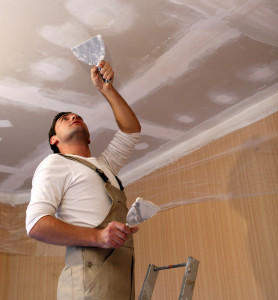 HomeMates is a company which is engaged in providing plastering services for different surfaces and buildings. We can replace plaster, remove old plaster and provide other features of the service.
Our basic service includes:
Plastering of walls
Replacing and plastering of ceilings
Coving
Skim coating
Arrange professional viewing by sending an e-mail at info@homemates.co.uk or by calling us on 020 3745 4377.
Decorating Services Prices
| Painting, Decorating and Wallpapering | Painting, Decorating and Wallpapering | Tiling and Plastering Services | Tiling and Plastering Services |
| --- | --- | --- | --- |
| | | | |
| Free Quote | Free Quote | Free Quote | Free Quote |
Wall plastering is usually provided by professional plasterers. They use different tools and materials such as plastering trowel, corner trowel, paint brushes, padle mixer, buckets, screwdrivers, finish plaster, self adhesive tape. Before the plastering begins some preparations need to be done. It is very important that the wall is even and completely dry. It is also better to perform plastering before Wallpapering, Painting & Decorating and Tiling.
Working Process
When the surface is ready to plaster, all the materials are mixed in a bucket until a creamy consistence is achieved. When the plaster is ready, it is spread from left to right, starting at the bottom. Electricity supplies have to be disconnected when working around them. When the plaster has covered the entire surface it has to be made smooth. Usually workers go back to it again and try to achieve even thickness. Then the plaster is left to dry. Smoothing process is repeated. To achieve a smooth finish, the surface may be dampened a little. Basically this is how plastering is done.
Coving is placed between walls and ceilings. Its purpose is to create an interesting and smooth transition, thus enhancing the look of a room. It is a form of a molding used for decoration purposes. Some people call it cove molding.
Molding is made from plaster, plastic, wood and other materials. Wood moulding is less expensive and usually it is used for basic coving. Since it is detachable, molding is considered easy to change so that it fits the design of a room.
For everything you need about plastering services, you can contact our agency.