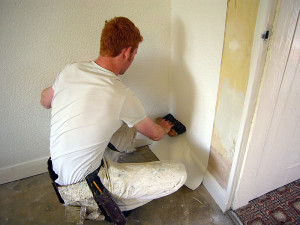 HomeMates offers wallpapering services for homes, offices, businesses, shops and other facilities. If you need help decorating your walls, we can be there for you.
Hanging wallpaper requires professional attitude as the process involves several steps that people with little or no experience will not be able to follow on their own. In fact wallpaper is often difficult to work and matching it up correctly is key to getting the job done the right way.
Arrange professional viewing by sending an e-mail at info@homemates.co.uk or by calling us on 020 3745 4377.
Decoration of interior walls
Generally, there are two major types of wallpapers: those hung in residential buildings and those used for public buildings and businesses. Wallpapers for residential purposes can be either pasted or unpasted. If they are unpasted, it means paste is going to be needed when hanging. Wallpapers for commercial use have different categories and their surface must be made of vinyl.
Decorating Services Prices
| Painting, Decorating and Wallpapering | Painting, Decorating and Wallpapering | Tiling and Plastering Services | Tiling and Plastering Services |
| --- | --- | --- | --- |
| | | | |
| Free Quote | Free Quote | Free Quote | Free Quote |
What does the process of wallpapering involve?
Applying lining paper includes:
Stripping and preparing of the wall
Hanging lining paper on the wall
Lining paper is less expensive than replastering and is the perfect surface for a wallpaper (it adheres more easily to the lining paper). If after removing the existing wallpaper, there are imperfections on the surface, lining paper will hide them.
Hanging method includes:
Stripping off of your current wallpaper
Levelling the wall surface
Sanding
Preparation
Sticking wallpaper to the wall
Our company can hang different types of wallpapers such as textured wallpaper, vinyl wallpaper, contemporary wallpaper, paper backed fabric wallpaper, nursery wallpaper, woodchip wallpaper, kitchen wallpaper, etc. as well as different types of services such as Painting & Decorating, Tiling and Plastering.
Wallpapers that are most easily hung are those of random match. This means that the next strip of wallpaper can be matched everywhere you place it, as there is no design repeat that has to be followed. The other types of math are straight and drop match.