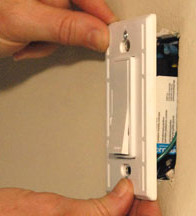 Handling electrical issues is always a tough task, no matter now minor it is. Entrust a proven electrical contractor and get your light switches fixed or installed in no time. The materials necessary are a switch, a screwdriver, voltage tester. The light switch installation includes a great number of procedures:
selecting the right switch
turning the electricity off and checking with a voltmeter
isolating the circuit
unscrewing and pulling the switch
drawing a diagram that displays some specifications of the electrical network
making sure the earth core is insulated
connecting the cores to the right terminals of the new switch
connecting to existing junction box
connecting to a new junction box
re- checking for any overlooked issues
Our light switch installation service is only one of the professional electrical services offered by HomeMates in London and Greater London.
Call us on 020 3745 4377 or send us an e-mail at info@homemates.co.uk to get a free quotation.
Electrical Services Prices
Although it doesn't seem to be complicated, actually it is, especially if you don't have enough knowledge or tools required. Getting the proper switch is important because the different switches are appropriate for different type of lights and dimmers. They, respectively, allow you to adjust the level of lighting in accordance with your needs. There are three main types of dimmers – a one – pole dimmer, 3-way dimmer, multi – location dimmer. Their installation takes as much time as the installation of a regular switch.
Professional Light Switch Installation from HomeMates
Having a voltmeter makes the installation procedure easier so having one is recommended.
In general, safety is really important when installing different electrical appliances, that's why the help of a professional electrician is recommended. Even if the light switch installation is a small task, it can cause a lot of troubles unless the technicians double – check if everything is in order. They will take care of the safety, the preparation, the insulation of the cores.
The service can be delivered only after the electrical network is examined carefully and the installation procedure has been discussed with the customer.