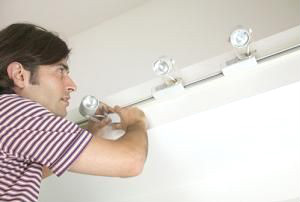 Our company has been dealing with wall lights installation services for many years and has an expert touch which can guarantee successful completion with the task.
The process of installation of wall lights is not as easy as it may seem at first and it requires the appropriate knowledge and tools. A professional can help through the entire process and install the lights without any problem.
Our wall lights installation service is only one of the professional electrical services offered by HomeMates in London and Greater London.
Call us on 020 3745 4377 or send us an e-mail at info@homemates.co.uk to get a free quotation.
Electrical Services Prices
Wall Lights Installation from HomeMates
There are several essential things to be considered when it comes to installing of wall lights, such as:
Needed tools – drill, voltage tester, tape, pliers, strippers, screwdriver
Needed skills – detailed knowledge of electricity, construction of walls, attention and accuracy, connecting wires, installing boxes, stripping of cables, measuring
Preparation – finding of power sources, testing and making sure lights don't overload the power circle
Hiring our professionals to take care of the installation process, you will be given the chance to have your wall lights installed properly and effectively. Our employees will take every detail into account, so that they can carry out the process without a problem. They will mark precisely the location that you want for the wall light fixture, by using special stud finder to make sure that the place is appropriate. Then they will drill holes and connect the necessary wires. At the end, they will test the light and make sure it works properly. The process involves taking many details into account, which a professional is aware of.
Wall lights are not only used as a way to provide a place with light but also serve as decoration, which can sometimes significantly improve the interior of a particular place. There are many different types of wall lights, which vary in size, shape, design and price.
To install a wall light, it is best to use the help of an expert, for the fact that working with electricity has to be taken with consideration and care. For great results and in order to make sure that every issue that might occur is taken professional care of, it is recommended to hire a company to install your wall lights for you.