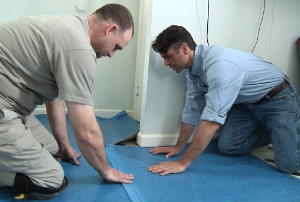 Every floor consists of a few layers – a top layer, a second one, a sub floor and joists. The second layer is called an underlayment. The underlayment is a very thin segment of the floor, which is used to rest the top flooring on. The underlayment provides the flooring with a nice and smooth surface, which is necessary in order to place the finish floor properly.
You can get all the information you need by sending e-mail at info@homemates.co.uk or by giving us a call on 020 3745 4377.
There are several materials that the underlayment can be made of, such as:
Hard wood
Cement
Fibre-cement
Plywood
Wafer board
Particleboard
Cork
Foam
Orient-strand board
Professional Floor Underlying Services from HomeMates
Depending on the situation, people choose different types of floor underlayment and none of them can really be considered the best. However, the most popular options are plywood and cement board. Foam and cork, used to install floor underlayment, are referred to as soft underlayment. They are not attached, like the other panels, but are left floating. The most important factor when deciding on the right material of the underlayment, is the type of top flooring that is going to be installed. The most adequate option when installing a laminate or a hard wood floor, is to use a plywood underlayment. For ceramic tile flooring, it's best to have a cement board second layer.
Our floor underlying service is only one of the professional flooring services offered by HomeMates in London and Greater London.
Floor underlying requires professionals skills and good experience in order to install the components properly and be able to place the top flooring has to be done by professionals decently. Our company has been providing customers in London with excellent floor underlying services for a lot of years and knows how to do it professionally and efficiently.
It is essential to know how to install underlayment correctly, in order to provide the entire flooring with stability and support. HomeMates' experts understand the importance of a properly installed underlayment and offer their service to provide you with a nice flooring. The process can be extremely tricky and complications can occur any time. If not done professionally, this can lead to a failure. Our professionals will advice you on the proper underlayment that is best for your case.