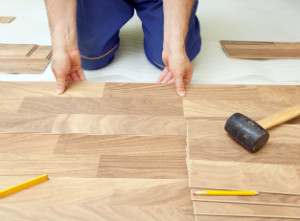 The wood flooring installation we provide is done according to each customer's requirements and preferences. Our services include a number of tasks done to provide the professional wood flooring installation you want.
Our wood flooring installation service is only one of the professional flooring services offered by HomeMates in London and Greater London.
You can get all the information you need by sending us an
e-mail at info@homemates.co.uk or by giving us a call on 020 3745 4377.
Wood Flooring Installation from HomeMates
The process of installing wood floor includes these stages:
choosing the type of wood you want and professional consultation about it: solid hardwood, engineered wood/composite wood or other
preparing for the installation: removing the base boards from the floor, preparation of the subfloor, laying the hardwood planks for 72 hours in the room to acclimatise
placing the guidelines
placing the first boards, nailing the wooden boards to the subfloor with hammers in the right places
locking each three rows of boards together so that they are tight by nailing them to the subfloor
measure the size of your floor and cutting the boards so that they fit to their places
using a flooring nailer, applying rows of boards
cutting the final board with circular or saw, if necessary to fit in well in the floor space
fitting well the last board with the help of a crowbar
add some kind of moulding or baseboard trim to make a good contact between the floor and walls on the borders of your wood flooring: the baseboard type depends on the room design and the customer's preferences
adding transitions and trims, where necessary, especially in the place where your new wooden flooring contacts with the door or other flooring in the same rooms, cutting and installing them properly, in accordance with the manufacturer's recommendations
filling all holes in your new flooring with the proper wood putty in the same colour as your floor wooden boards
After preparing your subfloor, our wood flooring installation team will check the boards for defects. Using solid hardwood planks,transitions and mouldings, wood putty, pneumatic flooring nailer, drills, drill bits, hammers, nails, circular saw, saw or table saw, pry bar, spacers, a tape measure, knife and other instruments, they will do the necessary measures and wood flooring installation.