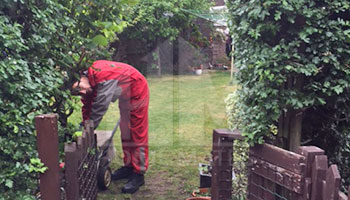 HomeMates provides various gardening services in Battersea, SW11. Our gardeners can offer you lawn mowing, hedge trimming, tree pruning and other gardening services.
We are a professional company which has been involved in the gardening business for quite some time. We are located in Battersea, SW11, where we have hundreds of commercial and residential clients, who use our assistance in providing their gardens with the needed care.
Nick
has been working for our company for 3 years as a Professional Gardener. With 10 years experience in the field he managed to cover more than 3500 addresses.
Vesko
works for our company for 1 year already. As he is specialised in shaping the bushes, lawn mowing and grass cutting, he helps to numerous Customers to maintain their gardens on daily bases.
Gardening Services Battersea from HomeMates
Some of the gardening services we can provide you with are:
Lawn care and repair
Shrub and tree trimming
Garden clean-up
Patio cleaning
Turfing and landscaping
In our agency, we work with the best gardeners in London, who know exactly how to care for any kind of garden and maintain it properly. Thus we give our clients the chance to enjoy their well-maintained and lovely gardens which take none of their time or effort.
If you have any enquiry or if you would like to get a quote, just give us a call on 020 3745 4377 or send us e-mail on info@homemates.co.uk!
Gardening Services Prices
Here is a list of all the services we provide in Battersea
We understand how important it is to provide a garden with adequate help and to have the right skills to complete different sorts of tasks within a garden. And we also realize that very often people don't have the green thumb, the time or the desire to maintain their gardens. That's why we offer the best gardening services in Battersea, SW11, which have been pleasing a number of customers for years. Our company works with a few teams of excellent gardeners, who are certified and super experienced. All of our employees are great professionals with many years of practice. This, added to the motivation they all have, is the easiest approach to always showing terrific results.
Professional Gardening in Battersea, SW11
Not only do we know the formula to keeping our clients happy with our services, we also offer the most competitive prices on the market in London. We believe in giving everyone the chance to benefit from our ideal gardening services in Battersea, SW11 without worrying about their budgets. That's why our services are inexpensive and perfectly affordable. Our company is among the most experienced providers of high-quality gardening services in the area and is considered one of the most reliable agencies by many.
We have been working hard to create this large family of happy clients and we pride ourselves with the brilliant work we have done so far. We are more than determined to keep on pleasing our customers for many more years and provide their gardens with the care they need to remain healthy and beautiful for a very long time. Call us to book a visit or inquire more information. We will send a team of experts to give you a professional advice and cope with the issue you need to be taken care of.