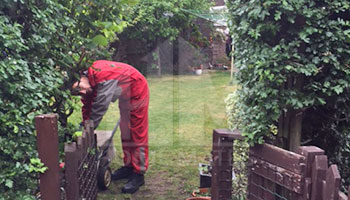 HomeMates provides various gardening services in Friern Barnet, N11. Our gardeners can offer you lawn mowing, hedge trimming, tree pruning and other gardening services.
At our company we have been occupied with horticulture for many years. Our gardening services are very popular in Friern Barnet, N11, as we offer a full range of options for your home.
Nick
has been working for our company for 3 years as a Professional Gardener. With 10 years experience in the field he managed to cover more than 3500 addresses.
Vesko
works for our company for 1 year already. As he is specialised in shaping the bushes, lawn mowing and grass cutting, he helps to numerous Customers to maintain their gardens on daily bases.
Gardening Services Friern Barnet from HomeMates
We offer:
High-quality designs and solutions for you outdoor area
Latest gardening equipment and tools
Local services, provided in Friern Barnet, N11 and other districts upon customers' request
Planning, landscaping and garden maintenance
If you want your garden to reflect your taste and needs, what are you waiting for? Using our company, you can fulfil all your dreams and get the garden you have always wanted to have.
If you have any enquiry or if you would like to get a quote, just give us a call on 020 3745 4377 or send us e-mail on info@homemates.co.uk!
Gardening Services Prices
Here is a list of all the services we provide in Friern Barnet
Whether you need a big lawn or a colourful garden that thrives all year long, we can do it for you. We can either create or renovate your garden so that you enjoy it every season. Learn more about us here or get in touch with us.
No matter if you only need someone to cut the grass at 11 am every Monday or you want to change your garden's appearance completely, we can do it. We can help you plant seeds, prune your trees, take care of your flowers, lawn the mown and trim the hedges anytime you need.
Professional Gardening in Friern Barnet, N11
We offer a full range of gardening services that can meet all your needs and requirements. We promise that your new garden will be good-looking and every passer-by will marvel at it, without doubt. When you look out the window, you will enjoy the flowers and colours. You can spend your summer evenings outdoors, admiring the work we have done. We are confident you will be delighted with the final results.
If you are very busy and you don't have time to take care of your garden, don't sweat it. Hire our company and get the best gardening service at the best prices in Friern Barnet, N11. We believe you will not be disappointed.
Send all your questions via our email and we'll get back to you as soon as we can. Don't forget that you can also call us. Get in touch with our telephone assistants who will collect information from you about the garden of your dreams. We'll send our gardeners to your home and design it to suit your taste. It will be a pleasure for us to help you. Get a free estimate now and you will not regret you did.