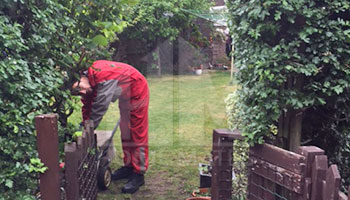 HomeMates provides various gardening services in Harringay, N4. Our gardeners can offer you lawn mowing, hedge trimming, tree pruning and other gardening services.
Our company's professional gardening services will make you reconsider having a garden in your real estate property. It is true that it requires a lot of cares for which you probably don't have time but that is precisely why you need the specialised assistance of our agency.
Nick
has been working for our company for 3 years as a Professional Gardener. With 10 years experience in the field he managed to cover more than 3500 addresses.
Vesko
works for our company for 1 year already. As he is specialised in shaping the bushes, lawn mowing and grass cutting, he helps to numerous Customers to maintain their gardens on daily bases.
Gardening Services Harringay from HomeMates
The benefits of taking advantage of our procedures are:
More affordable prices without any unexpected fees;
Precision in the work and timely performance of every service you pick;
Collaboration with the most sympathetic team of gardeners;
Execution of gardening services even during holidays and weekends
Our qualified gardeners will provide your garden with the cares it needs and they can also create one for you in case you want. We offer a big variety of gardening procedures which come with possibly the best and most competitive price rates in Harringay, N4.
With the excellent and timely assistance of our employees you will be calm that your garden will be always in perfect condition. Give them a call one of these days.
If you have any enquiry or if you would like to get a quote, just give us a call on 020 3745 4377 or send us e-mail on info@homemates.co.uk!
Gardening Services Prices
Here is a list of all the services we provide in Harringay
There are a lot of benefits of trying the professional gardening services of our company in Harringay. The attractive prices and the timely execution of the procedures are only part of the things you will receive. We are a company which likes to supply its customers with the best services and we can do that faster than any of our competitors in the city because we have a great equipment of very advanced machines and instruments.
Professional Gardening in Harringay, N4
There are many things our agency can offer you and the excellent gardening procedures are only one of them. We will make in your real estate property the greatest garden, so that you and your family can enjoy it all year long. You can call our excellent specialists in case you are having a problem with the weed, with pests or simply in case you want to rearrange the plants in your garden. Our experts will arrive immediately from Harringay, N4 and will take care of any tasks you give them.
Our agency has been offering first-class professional gardening services for Harringay, N4 and other districts of London for the last several years and they were always satisfying for our customers. Our procedures will provide your garden and lawn with the best maintenance ever and this will cost you an affordable fee. Contact the employees of our agency in our call centres and make a reservation for a gardening procedure you need.