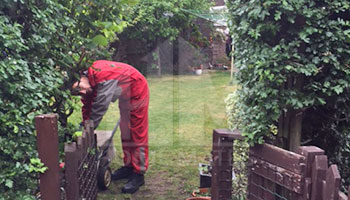 HomeMates provides various gardening services in Highgate, N6. Our gardeners can offer you lawn mowing, hedge trimming, tree pruning and other gardening services.
You can always have a well-maintained garden without spending much time to groom it. Just hire our amazing gardening services and you will get it.
We are positioned in Highgate, N6 and we offer lots of gardening options for you and your family, no matter where you are situated. You can have it all, from hedge trimming to complete garden renovation and regular horticultural practices.
Nick
has been working for our company for 3 years as a Professional Gardener. With 10 years experience in the field he managed to cover more than 3500 addresses.
Vesko
works for our company for 1 year already. As he is specialised in shaping the bushes, lawn mowing and grass cutting, he helps to numerous Customers to maintain their gardens on daily bases.
Gardening Services Highgate from HomeMates
Call our number to book our professional gardening services, which are delivered in Highgate, N6, and you can order the following:
Hedge trimming
Garden care
Tree pruning
Garden renovation
Lawn mowing
We pride in our qualified professional teams of gardeners who have years of experience in this trade; they will respond to your needs and get the most of your outdoor area. Get in touch with our call centre and we will give you further details about our service.
If you have any enquiry or if you would like to get a quote, just give us a call on 020 3745 4377 or send us e-mail on info@homemates.co.uk!
Gardening Services Prices
Here is a list of all the services we provide in Highgate
Lawn mowing can be done regularly and at a time that suits you. Tree pruning is done at certain times of the year. Its purpose is to remove dead branches and allow space for new ones to thrive. We use the best tree pruning techniques. Garden renovation is another service that you should consider using. We can transform your over-grown outdoor area into a good-looking garden with lots of flowers that give off a wonderful aroma. We will do the needed work on the arranged day.
Professional Gardening in Highgate, N6
We want you to marvel at beautiful surroundings every time you look through the window. We want to make you neighbours and everyone that passes by jealous of your garden. We offer the very best horticultural services in Highgate, N6 to make this happen. You will be proud of the way we made use of your outdoor area.
We will do everything you ask us to. This service is personalised and customisable. It means that you decide what happens in your garden anytime. Our gardeners will carry out a plan for your outdoor space, show it to you for approval and then complete every step of the process with care and professionalism.
It will be a pleasure for us to help you build the garden you need. To learn more, be sure to call this number and talk to one of our assistants about the things you want to change about your garden. We will be happy to meet all your expectations. Get a free quote.