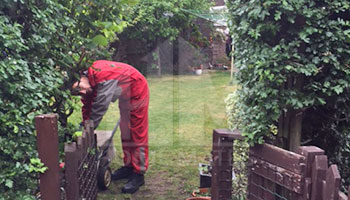 To keep your garden and all the plants in it in a good condition, you can use the professional gardening services that we offer. They will provide you lawn care and maintenance, hedge and tree shaping and trimming, weed removal, garden cleaning, turf laying and fence installation. If you need professional cares for the plants in your garden, order our gardening services, provided on very competitive prices. They will make the changes your garden needs. Our company is situated in Kidbrooke, SE3. If you live in this area, call us and order our gardening services and they will be provided in a convenient time for you.
Nick
has been working for our company for 3 years as a Professional Gardener. With 10 years experience in the field he managed to cover more than 3500 addresses.
Vesko
works for our company for 1 year already. As he is specialised in shaping the bushes, lawn mowing and grass cutting, he helps to numerous Customers to maintain their gardens on daily bases.
Gardening Services Kidbrooke from HomeMates
We know that a great looking garden enhances the appeal of your residential/commercial property, so we offer the best professional lawn maintenance & gardening services for proper maintenance of your lawn and garden. We are a UK based provider of lawn and garden maintenance services; we are located in Kidbrooke, SE3, London, and we are able to tailor a lawn/garden maintenance program that can suit your specific needs. We can provide you a one-off or regular lawn & garden maintenance service as you choose. We can give you a full range of garden maintenance services such as lawn mowing, hedging, pruning, trimming etc.
If you have any enquiry or if you would like to get a quote, just give us a call on 020 3745 4377 or send us e-mail on info@homemates.co.uk!
Gardening Services Prices
We provide more services in Kidbrooke
We are into gardening and we are admired and recognised for our superb gardening and lawn maintenance services that are regularly delivered to the London based commercial and residential property owners. A number of interesting services are available at our office which is well placed in Kidbrooke, SE3 part of the London city We supply you the best local gardeners who can assist you in taking care of your lawn or garden. They can carry out the required tasks such as weed and pest control task, top dressing, aeration, fertilising, turf laying, coring, repair, rubbish removal, garden clearance, and so on.
Professional Gardening Kidbrooke, SE3
If looking for a friendly, courteous, genuine gardening or lawn maintenance service inside the London city, give a chance to our company which is easily accessible to all potential clients around the London city since it is suitably placed in a commercially active, central London region Kidbrooke, SE3. You can obtain highly sought after services like lawn treatment, lawn mowing, basic gardening, pruning, cutting, trimming, hedging, garden cleanups etc, at any time. So, whenever you wish, just get connected to us to obtain a friendly and professional garden maintenance service from the deft, dependable, trustworthy, local gardeners of our London based gardening services company.