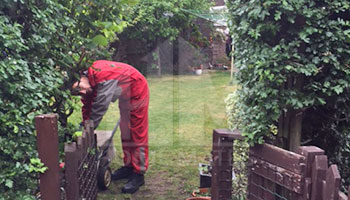 We operate a gardening services agency that serves across the London city; our agency is perfectly placed in the Nunhead, SE15 area. Our services are delivered to numerous citizens of the London city. Although we provide outstanding lawn and garden maintenance services and ensure the best standards of customer satisfaction, however, our firm is also known for a number of business and job opportunities that it creates. We have successfully managed a network of franchise owners across the London city. Take a step forward with confidence and get associated with us and we would certainly make your life richer in more than one way.
Nick
has been working for our company for 3 years as a Professional Gardener. With 10 years experience in the field he managed to cover more than 3500 addresses.
Vesko
works for our company for 1 year already. As he is specialised in shaping the bushes, lawn mowing and grass cutting, he helps to numerous Customers to maintain their gardens on daily bases.
Gardening Services Nunhead from HomeMates
We are running a gardening services company in Nunhead, SE15, London, which locally provides lawn and garden maintenance services to a wide range of residential & commercial customers across the London city. We are able to provide maximum satisfaction to all our clients whether they want our extraordinary, commercial gardening services deals or just want the standard residential gardening services deals. We are able to quickly deliver fabulous gardening services to all parts of the London city. We are also able to give our exceptional services for low prices; obviously this is an additional benefit of booking us for a professional service.
If you have any enquiry or if you would like to get a quote, just give us a call on 020 3745 4377 or send us e-mail on info@homemates.co.uk!
Gardening Services Prices
We provide more services in Nunhead
Do you manage your lawn yourself? It is great if you can properly manage your lawn yourself without getting professional help for lawn maintenance purpose, however, if you own or manage a large garden of a residential or commercial property, you would certainly require a professional gardening service on regular basis. With the assistance of expert gardeners, your work will be done very quickly and your garden will look great all year round. Connect with us since our company which is perfectly located in the Nunhead, SE15 part of the London city, is the most suitable company to give you a gardening service.
Professional Gardening Nunhead, SE15
A well maintained lawn/garden gives a great look to your home and adds to the appeal of your residential or commercial property. You might require a professional lawn and garden maintenance service to keep your lawn/garden in the best condition. Our well-placed, London based gardening services firm manages a large number of teams of professional gardeners that are associated with our Nunhead, SE15 based head office, and deliver all the required services to numerous residential and commercial customers across the capital region within the United Kingdom. You can expect to be offered a full rage of gardening services through our adept gardeners.