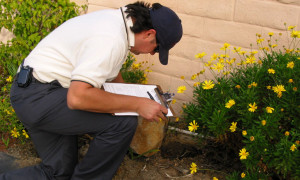 The seasonal pest control which our company from London can offer you will guarantee you a safer home during all parts of the year. Our treatments are sufficient to remove any insects or rodents from your real estate property and keep them away for as long as possible. We use powerful and innovative exterminating methods and products which will free you from the uninvited visitors. We are ready to take care of your property all year round, battling all kinds of pests that might come to your home.
Besides the seasonal pest control service which HomeMates offers in London we also offer a variaty of pest control services.
Send us your enquiry via e-mail at info@homemates.co.uk or call us on 020 3745 4377 to receive an instant quote or urgent pest control service!
Depending on the season of the year, the population of particular insects and rodents might increase which will inevitably heighten the risk of infestations in the residences. We thought of that and that is why we have prepared our equipment and crew for the particular needs of every season.
Spring – During the spring, big problem might become the flies, cockroaches and ants which start to awaken, as the weather conditions begin to change. The domestic environment starts to look appealing to such insects, as they look for food. Our specialists have at their disposal the best sprays and pesticides which will make sure that those pests won't bother you any more.
Summer – The summer is the season of the wasps, the birds, the cockroaches, flies and many other insects. Because of the high level of humidity which might appear during some days of the summer, you can see a lot more cockroaches than usual. Our professionals can also take care of any infestation of dangerous wasps, including the removal of their nests, as well as of birds and other intruders.
Autumn – This season can bring you visits from the house mouse, as well as from the moles and various crawling insects like bed bugs. Our experts, however, know how to deal with the appearance of any of those species, so your home will be safe.
Winter – During the winter most rats and mice start seeking a warmer and cosier environment where they can live undisturbed by the cold weather conditions. Fortunately, when that season comes, we are already prepared to take care of all rodent infestations.