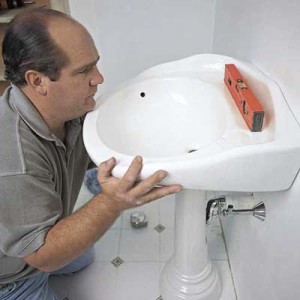 We provide replacing of all kinds of bathroom basins. Out plumbing technicians will arrive at your address, supplied with all the necessary materials and tools for the installation of your new bathroom sink and removing of the old.
Our replace bathroom basin service is only one of the professional plumbing services offered by HomeMates in London and Greater London.
If you would like to arrange a viewing, get a quote for radiator maintenance or book emergency plumber call us on 020 3745 4377 or e-mail us at info@homemates.co.uk.
The tools and materials we use for replacing your bathroom basin are:
pipe wrench and adjustable wrench
utility knife
screwdriver
another bathroom sink
trap
supply lines
plumber's tape
tape measurer
pry bar
soft towel
facet
tail-piece
silicone caulk
The process of replacing bathroom basin includes five main steps. They are enumerated in the order, in which they are performed:
Taking the necessary measurements: including length, width, depth of the sink, which is to be removed, checking the measurements twice for certainty
Turning off the main water supply to ensure a safe and successful bathroom basin replacing, checking if this is done by running the facets to ensure that the water is really off
Removing of the old sink: after placing a bucket under it, removing trap and tail piece, loosening the clips, which are under the old sink, cutting a seal round the old sink with an utility knife, detaching the old sink
Mounting the drain assembly and the new facet: cleaning the dressing table's surface, installation of the facet first and then installing and slack tightening of the drain assembly
Installation of the new sink: placing it upside-down on a cloth, running beads of caulk and then pressing and adjusting the new sink, removing the unnecessary quantity of caulk from it, installing the clips
Connecting the supplying lines: tightening the drain assembly well, connecting of the supply lines with the facet tail pieces and connecting the stopper assembly, mounting the tail pieces between the drain assembly, installation of the trap

After our technicians check all the connections of the bathroom basin to ensure that they are tight and correctly done, you can use your newly installed sink. You can have installed sinks with the same size as the old sink or a little larger sized sinks.