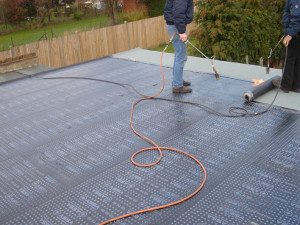 The felt material, we use is flexible, based on bitumen sealing mineral, which is perfect for waterproofing all pitched and flat roofs. It is a very practical and worthwhile material for most roofs.
HomeMates offers roof repair in London as well as all other types of roofing services.
Arrange a free inspection and get a non-obligatory quote by sending us an e-mail at info@homemates.co.uk or by calling us on 020 3745 4377!
The installation of felt roofs includes these steps:
Priming the roof in advance
Placing an underlay
Heating the felt well with a gas gun
Making measures to estimate the size of the felt needed
Cutting the necessary quantity of felt to cover the roof, according to its size
Felt roof materials can be used instead of lead flashings. It can be used for covering some inconvenient areas, which need protection. Roofing felts can be found in different colours, our company can offer you. Our felts are specially selected. We use only the best quality felts for your roofs, which are very resistant and reliable. We also provide guarantee of twelve years for our felt minerals, which is the legal requirement of the industry. If your felt roofs didn't endure these 12 years, which is very unlikely, we guarantee you to replace them with new ones. This way you will receive qualitative felt roof installation, which was manufactured to last long time.
The modern felt technology, which is used to produce the felt we apply, includes non-woven polyester fleece material, which has non-tear ability. Together with the modified bitumens, they will make your felt roof wonderfully resilient.
We offer torched on and hot laid installation of the mineral felt
We use torch on felt technique to repair some patches in your roof. This procedure guarantees from ten to twenty years resistance of your roof. If you have a leaking felt roof or want to install a covering felt layer over your roof to make it water-resistant and endurable, use our services for installation and repair of felt roofs. Our services also include maintenance of your felt roofs. The installation, maintenance and repair of flat roofs we provide will make your building look attractive. Your roofs will last long time, be strong and resistant enough in various weather conditions like: sun, rain, snow and strong wind.