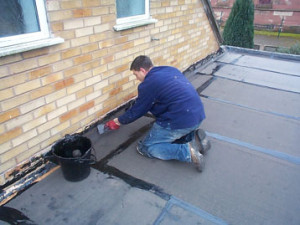 The flat roof services we provide offers a wide range of materials, you can choose to install for your roof. They are specially selected and tested as durable, qualitative and waterproofed. According to your property: house, flat, apartment building or some commercial estate, you can consult with our flat roofs' specialists to choose the best material for your roof.
HomeMates offers roof repair in London as well as all other types of roofing services.
Arrange a free inspection and get a non-obligatory quote by sending us an e-mail at info@homemates.co.uk or by calling us on 020 3745 4377!
The flat roofs we can provide you with are:
Fibreglass roofs
Rubber roofs
Felt roofing
Single Ply roofs
Built-Up Roofing – Hot Tar & Gravel
Titanium dioxide top layer covering for your roofs
The fibre-glass material is a very good choice for your roof. Fibreglass is designed to prevent from slipping, doesn't decay and
won't cause leaks. These properties make it very proper fro roof material. Our fibre-glass roofs have very long warranty of around 25 years.
Rubber roofs are enduring in sunny conditions, scuffs and water. They are light and long lasting, which make them a good choice for a roof material. If a leak occur, rubber roofs are easily mended.
Felt roofs are used for covering any horizontal or vertical roof surface to make it water-resistant and keep dry your home. Felt coverings are made of versatile, dense and strong materials.
Single ply roofs are an appropriate choice for every new building and repair project. They are mechanically attached, cohered and ballasted. Our flat roofing technicians and specialists can provide you with consultation, professional advices and the necessary CAD drawings to see the way your roof will look like. We can also provide you assistance in the thermal insulation process. Single ply roof materials are very enduring and water-resistant.
Built-Up Roofing – Hot Tar & Gravel roof systems are slowly starting to use modern materials like fibre-glass membranes. Gravel is a wonderful fire suspensory material, which will protect your roof well and make it look nice. It is a considerably cheap roofing solution.
You can order covering your roof with titanium dioxide top layer. It will protect your roof from the harmful UV lights. We choose carefully our products for your flat roofs and all of them are top quality.