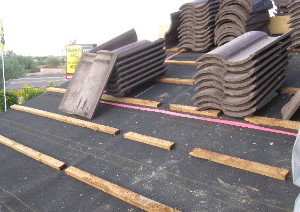 If you are looking for a professional company which can perform a successful roof tile installation, you can turn to HomeMates. We know everything about the different types of tile roofs and we have competent specialists who can install or repair them any time.
The tile roofs are better not only for the property but also for the environment and you can choose a model which will suit perfectly the design of your home. The tile roofs are suitable for any type of climate and will be a good addition to the presentable appearance of your property.
Our professional company can offer you tile roofing services with very reasonable prices which can improve thoroughly the look of your real estate property. The process of booking our services is very easy and the following completion won't take much time, depending on the size of your place.
HomeMates offers roof tile installation in London as well as all other types of roofing services.
Arrange a free inspection and get a non-obligatory quote by sending us an e-mail at info@homemates.co.uk or by calling us on 020 3745 4377!
Roof Tile Installation from HomeMates
We can work with every type of tile roofs like:
Cement tiles – Whether you have a property in Mediterranean or Italian style, the cement tiles which our specialist will place on your roof will look very good. This type can be found in variety of colours and models and you can also count on our experts for an adequate consultation, if you are having troubles deciding.
Concrete fiber reinforced – Although this type of roof tiles is a little more specific, its proper installation won't be a problem for our excellent professionals. This model is considerably lighter than the others and can be also found in different colours.
Slate – If you want to give to your home a more unusual look, you can purchase the slate roof tiles. Once the professionals of our company install them in your home, it will attain a more colonial look. This type is also very easy to maintain.
Metal tiles – With the metal tiles our experts will give to your home a more modern look. Whether they are made of steel, copper or aluminium, you can rely on our professionals for their fast installation.