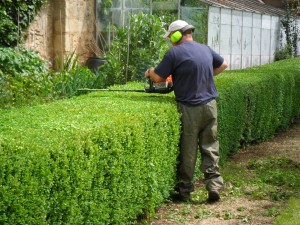 Hedge trimming is one of the essential skills every gardener should have but due to the fact that it requires a lot of precision some professional assistance from HomeMates would be really useful. The decent trimming improves the growth and the hedges look neat and healthy. What makes the hedge trimming so tricky and challenging is the fact that there are so many kinds of hedges that need different treatment.
If you have any enquiry or if you would like to get a quote, just give us a call on 020 3745 4377 or send us e-mail on info@homemates.co.uk!
Nick
has been working for our company for 3 years as a Professional Gardener. With 10 years experience in the field he managed to cover more than 3500 addresses.
Vesko
works for our company for 1 year already. As he is specialised in shaping the bushes, lawn mowing and grass cutting, he helps to numerous Customers to maintain their gardens on daily bases.
Only an experienced gardener is capable of figuring out:
the best time of the year for hedge trimming and the frequency
the right shape
the right technique for achieving the desired forms
While some hedges should be trimmed at the beginning of the winter, some other need to undergone the trimming procedure in the middle of the spring. During the spring you may also consider using professional gardening, lawn mowing, weeding and tree pruning as it is the best time these services to be performed.
A common mistake is creating unnatural shapes out of the hedges, which barely results in getting the desired effect. In case you want to create an animal shape or any other unique, fancy form, you'd better rely on some professional gardening assistance. However, creating a particular form out of the hedges should start from a very early stage of their development.
Gardening Services Prices
Professional Garden Maintenance
A lot can be said about the proper trimming technique but in brief, the hedges should be trimmed from the bottom to the top using appropriate equipment. The term "appropriate equipment" itself can be pretty tricky as various trimmers are used for the hedges that differ in size, height and maintenance requirements. The chest – high hedges can easily be handled with a trimmer that has double – sided blades, which reduces the time for trimming.
In case you have to deal with a hedge that is above your height, opt for an angled cutter bar.