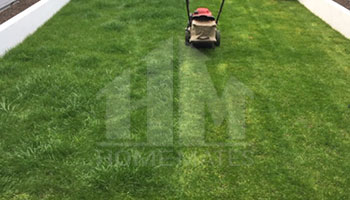 The proper lawn mowing is essential for creating a nice look of any garden but it requires knowledge and precision. For excellent results, the best alternative is taking advantage of professional lawn mowing service that includes all the steps that should be taken for getting an ideally mowed lawn.
If you have any enquiry or if you would like to get a quote, just give us a call on 020 3745 4377 or send us e-mail on info@homemates.co.uk!
Nick
has been working for our company for 3 years as a Professional Gardener. With 10 years experience in the field he managed to cover more than 3500 addresses.
Vesko
works for our company for 1 year already. As he is specialised in shaping the bushes, lawn mowing and grass cutting, he helps to numerous Customers to maintain their gardens on daily bases.
HomeMates' professionals know best:
how often to perform lawn mowing procedure
how to achieve the desired height of the grass
when the edges around the lawn need some attention as well
what kind of mower to use according to the height of the grass
The frequency of the lawn mowing depends on the season – as the weather warms up weekly mowing procedures might be necessary. The best method for having a neat and healthy – looking lawn is maintaining the same height of the grass during the entire season. Bearing that in mind, adjusting the height is a really important factor. Cutting the grass too low makes it weak and leads to bare patches. Moreover, it enables the weeds development.
Another component of the neat lawn is the condition of the corners. An ideal appearance and sharp edges are achieved by the usage of half moon edging iron. Keeping the mower blade sharp at all times is also important. Besides the lawn, you should take a proper care of the other garden components as well. The best way to do that is to consider using some of our related services such as professional gardening, hedge trimming and tree pruning.
Gardening Services Prices
Professional Equipment
There are different types of lawn mowers and all of them are said to be effective but it is a well – known fact that the rotary mowers are used for cutting grass higher than an inch. The mulching mowers are irreplaceable for chop clippings while the push mowers, the most convenient and widespread ones, are excellent for small domestic gardens.
Along with the regular mowing, feeding the lawn is essential for it's healthy condition. The properly chosen fertilisers will prevent the bare patches and the pale grass.