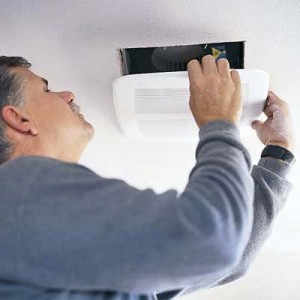 The repairing of the bathroom fan is part of the electrician handymen services of HomeMates. Our professionals are completely prepared to tackle every problem that might appear in your fan. Depending on the model of the device and the damage it is experiencing, our handymen will prepare the necessary instruments and will come to your real estate property where will go through the usual process for determining the cause for the failure.
You can call us on 020 3745 4377 or email us at info@homemates.co.uk.
You may consider combining our bath fan repair service with the rest of our services such as Odd Jobs, Furniture Assembly and Fit Binds and Curtains.
Diagnosing the problem
The first step of the repairing process of your bath fan will be the inspection of the device. That way our employees will be able to isolate the problem and to move on to fixing it quickly. No matter if your fan has been making unusual noises or if it has stopped working at all, our professionals will take it apart and examine every section for malfunctions.
Repairing or replacing broken parts
Once the problem is stated, our experts will first try to save the broken part if it's possible. A lighted problem like a loose or disconnected wire they will be able to fix on the spot. If there is a more serious damage like to the motor, for example, our workers will track down the number of the particular model and will find you a new one.
Installation of a new fan
In case of a permanent damage, our experienced handymen will directly provide you with a brand new bathroom fan. According to the location and model of the old one, they will install the new fan as fast as possible. In case you would like to try a newer type which has a different size and characteristics, you can tell our employees and they will do the necessary improvements for the installation of the new model.