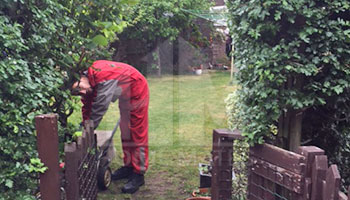 In order to be efficient, the professional gardening services should include a wide variety of procedures, carried out with extra motivation and determination. Your garden needs to be taken a proper care of during all seasons and especially at the beginning of the spring.
If you have any enquiry or if you would like to get a quote, just give us a call on 020 3745 4377 or send us e-mail on info@homemates.co.uk!
Nick
has been working for our company for 3 years as a Professional Gardener. With 10 years experience in the field he managed to cover more than 3500 addresses.
Vesko
works for our company for 1 year already. As he is specialised in shaping the bushes, lawn mowing and grass cutting, he helps to numerous Customers to maintain their gardens on daily bases.
HomeMates' gardening service covers:
landscaping
lawn and plant care
hedge trimming
tree prunning
advice given by experienced gardeners
pond cleaning and general clean up
Regardless of their type, every plant should be paid enough attention to during all stages of its development. Lawn mowing, laying turf, strimming, edging, seeding, aeration are the components of the lawn and plant care procedures. As far as the landscaping service is concerned, it covers all the steps, that should be taken towards the achieving the goal of having a beautiful garden – the bushes and hedges should be precisely trimmed, the trees carefully pruned so any damages are avoided, the weeds treated with appropriate supplies that reduce and even stop their growth and development.
Gardening Services Prices
We can handle the most challenging tasks
During the winter, the ponds and the fountains usually gather a lot of debris and their maintenance is one of the most challenging tasks so taking advantage of professional gardening services, which include lawn mowing, hedge trimming, tree pruning, is highly recommended.
The experienced gardeners have all the tools and equipment required for performing all the procedures, mentioned above. They are capable of giving an expert advice and directions about the future maintenance of the garden, the frequency of watering the particular plants, the plants bedding etc. When all the important tasks are completed, a general clean – up will be performed – sweeping, pressure washing, debris disposal.