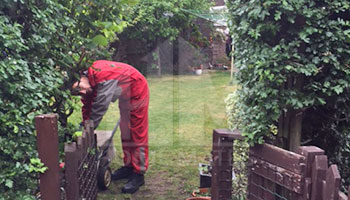 HomeMates provides various gardening services in Colindale NW9. Our gardeners can offer you lawn mowing, hedge trimming, tree pruning and other gardening services.
Our company offers A to Z gardening services for the area of Colindale NW9. We will help you with the maintenance of your garden with our weekly or bi-weekly services as well as the one-off service.
Nick
has been working for our company for 3 years as a Professional Gardener. With 10 years experience in the field he managed to cover more than 3500 addresses.
Vesko
works for our company for 1 year already. As he is specialised in shaping the bushes, lawn mowing and grass cutting, he helps to numerous Customers to maintain their gardens on daily bases.
Gardening Services Colindale from HomeMates
Here are some of the gardening services we are offering:
Planning and design
Garden maintenance
Weeding
Clearance
Turf laying
Lawn aerating
Hedge trimming
Pressure washing
Green waste removal
Planting
Pruning
Fencing
Lawn brown spots troubleshooting
Our teams of professional gardeners are here to make sure every corner of your garden look wonderful. You can be sure that our gardeners will threat you and your property with the respect you deserve.
If you have any enquiry or if you would like to get a quote, just give us a call on 020 3745 4377 or send us e-mail on info@homemates.co.uk!
Gardening Services Prices
Our team of gardeners will be on your driveway very soon after booking. They will be with a van carrying every tool needed for the job like: lawn mowers, hedge trimmers, weed whackers and more.
Here is a list of all the services we provide in Colindale
If there are any dead spots on the lawn, then this may require a special treatment on the specific areas. There are many different factors we must consider when it comes to the brown spot, because unfortunately when something goes wrong with the grass, it turns yellow or brown. Our experienced gardeners in Colindale NW9 will determine what exactly had caused this problem and find the best way to deal with it.
Lawn aeration is a another important service we provide as it allows the grass roots system to breath and receive more nutrients. This is also an essential step for preventing diseases and mold spreading in your lawn. We recommend lawn aerating at least once a year.
Professional Gardening in Colindale NW9
The hedges, however, must be trimmed weekly or bi-weekly. This procedure takes up to an hour, depending on how big are the hedges in your garden. Tree trimming is very important not only for the nice look and the safety of your garden but also because this service allows more sunlight touching the grass.
Your garden needs maintenance throughout the year. Our gardeners will help you prepare it for the winter, which is very important if you want a beautiful garden when the spring comes.
Our friendly gardeners will dispose all the waste after they're done. So, if you want the best gardening services in Colindale NW9, call us today!