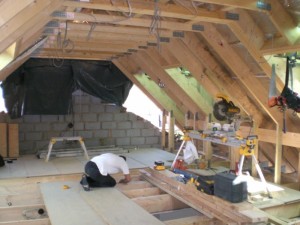 Professional loft conversion services in Colindale, NW9 provided by HomeMates. Increase the living area of your house with our loft conversion service. Call now!
If you look for professional loft conversion for your home, you can use our services. We provide the most affordable and professional loft conversion in Colindale NW9, which will guarantee you more living space and rooms in your home. Whatever your needs are, we will take them into account while planning and implementing your loft conversion project.
It will be done according to the local authorities' requirements. Use our services to have your loft conversion done in the date and time you prefer and completed in the previously determined time schedule. We provide our services in Colindale NW9 every day in the week, including at the weekends and holidays.
Contact HomeMates at 020 3745 4377 or at info@homemates.co.uk.
Building Services Prices
The prices can vary greatly depending on the size of the property and materials used. We strongly recommend to fill in the form or call us for a free quote.
Loft Conversion in Colindale from HomeMates
Our professional loft conversion services in Colindale NW9 include:
Planning of your project, paying attention to the customer's needs
Creating the design of the new room or rooms
Buying the necessary materials for building and conversion
Implementing of the project
Insulation, plastering, painting and decorating, plumbing and electrical supply and installations, included
Supervising of the project and final inspection
Here is a list of all the services we provide in Colindale
If you rely on our team of architects, builders, planning assistants and engineers to plan and implement your project, you will have the loft conversion you have always wanted. The work will be done by qualified and experienced specialist in conversion of all kinds of attic areas. They will listen to each customer's ideas and implement them accordingly.
Get in touch with our representatives to have your neglected attic space transformed into the room you need most. We can offer you professional attitude and qualitative work. You can take advantage of our proposal if you live in and near Colindale NW9.
Loft Conversion Services in Colindale NW9
Your loft can be turned into the room you need most in your home. Use our loft conversion services, provided on competitive prices in Colindale NW9. They will make your home more valuable and more luxurious. You can order mansard, dormer, hip to gable and Velux loft conversion. Any of these conversion types will be recommended by our loft conversion specialists, depending on many factors.
You can receive more information over the phone, using our customer support centre. Our representatives will answer all your questions and offer you the assistance you need. Get in touch with them to order the loft conversion you need for a preferred date and time.