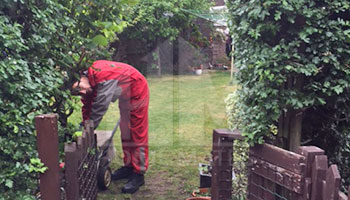 Our gardening services can offer you professional advice, consultation and cares for the plants in your garden. The gardeners working in our company are at your disposal for making new flower beds, mowing your lawn, shaping your trees, bushes and hedges, removing the weeds from your garden. Our gardeners can clean your garden from fallen and cut branches, weeds, leaves. Through the help of powerful jet washing machines, you can have your paths and paved areas in and around your garden, rid of stains, weeds and dirt. Use our affordable gardening services, provided in Willesden, NW10 any time you need them.
Nick
has been working for our company for 3 years as a Professional Gardener. With 10 years experience in the field he managed to cover more than 3500 addresses.
Vesko
works for our company for 1 year already. As he is specialised in shaping the bushes, lawn mowing and grass cutting, he helps to numerous Customers to maintain their gardens on daily bases.
Gardening Services Willesden from HomeMates
We are London based, notable, accomplished, reliable suppliers of gardening plus lawn maintenance services. Since we are capable and our company is well situated in London within the commercially active, well-known Willesden, NW10 zone of the city, so, it is easy for us to fulfill all your demands at any time and on any day. We can deliver you the perfect standards of gardening and lawn maintenance since we can perfectly tackle all the issues related to your lawn or garden. Our gardeners can take best care of your lawn/garden and they can prove to be very useful to you since they know everything about gardening.
If you have any enquiry or if you would like to get a quote, just give us a call on 020 3745 4377 or send us e-mail on info@homemates.co.uk!
Gardening Services Prices
We provide more services in Willesden
The gardening services which our company has will make you reconsider the idea of having a garden in your property. Our certified experts can help with the planning and further work on the project in your home. They will also assist with the maintenance of the newly created garden for as long as you like. The best part is that the gardening services of our agency are considerably affordable which makes them perfect for every household. The removing of the weed and the maintenance of your lawn are also perfect jobs for the gardening experts of our agency. Call them now in Willesden, NW10 for details.
Professional Gardening Willesden, NW10
We are accomplished suppliers of sought after gardening and lawn maintenance services in the London city. We have based our head office in the Willesden, NW10 area of London which is a commercially active area and easily accessible to people from all parts of the city. The best finish that you expect for your lawns or gardens can be achieved if you use our trustworthy, superior gardening service. Professional lawn cut can give highly impressive finish to your lawn and it also includes professional edging of the complete lawn/garden area. Professional edging includes area around the trees and other areas within the garden.