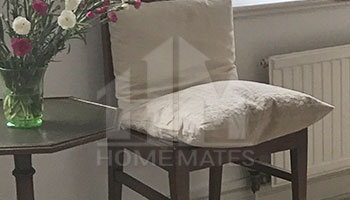 Are you searching for house cleaners who will give you service that is exactly the type you have always imagined? This is already possible because our company can offer you service which is in complete harmony with your desires, needs and requirements and performed just for you. We have a range of professional detergents, tools and we apply them successfully in order to make your home ideally fresh and sanitary. Our team takes care of many homes in Willesden, NW10 and also in other London areas so if you think you want the best maintenance, book our cleaners right this moment.
Nedka
is in her early 50's and she is one of our finest cleaners. The saying 'Age ain't nothing but a number' defines her.
Daisy
is challenging herself in order to become an expert. She is practicing her skills on daily bases and do not accept anything but sparkling home.
Galina
is one of our brightest cleaners. Fond of household pets and children. Galina works quickly and up to a high standard.
Yulia
is a brilliant cleaner, who works quickly and catches on to each and every one of our customers' needs.
Home Cleaning in Willesden from HomeMates
Our house cleaners are waiting for your cleaning requests- they will demonstrate you how easy it is you house to shine with cleanliness and to become much cozier than usual. Our cleaners are fully-trained to execute all the cleaning jobs around an apartment or a house- from dusting and vacuum cleaning to cleaning the kitchen appliances and windows. They will provide the comfort of your house without using aggressive cleaning products that can damage the surfaces in your home or can pollute the air your children are breathing. Do not hesitate to contact us either in Willesden, NW10, or through the call centres.
E-mail us at info@homemates.co.uk or call us on 020 3745 4377 and our customer care team will gladly explain you even the smallest details about our cleaning services.
Domestic Cleaners in Willesden
We are suppliers of domestic cleaners and housemaids. Our domestic cleaning services agency which is based in London, magnificently placed within the Willesden, NW10 area, takes pride in providing most capable, highly experienced, presentable, loyal housemaids to needy people such as home-owners, elderly people, busy housewives with young children, working women, and other types of clients. We are determined to offer the ultimate solution for your all types of house cleaning needs because we realise that you have a lot of work that keeps you busy, so, you are not able to keep your house in pristine state without getting help from experienced professional cleaners.
HomeMates Cleaners Willesden, NW10
Looking for a professional, cost-effective, fully flexible, local house cleaning service for a London based house? We can help out; please do not hesitate to call us and request for a professional housemaid or domestic cleaning technician. We are based in London and we belong to the cleaning industry of your city. Our cleaning firm that is perfectly located close to the Willesden, NW10 area in the London city, is a very famous, established company that can arrange a perfect domestic help for you. With fully flexible booking schedule, our services are definitely the most convenient to book and obtain for any location of London.