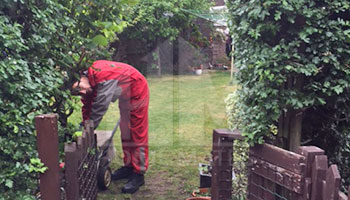 HomeMates provides various gardening services in Kingsbury NW9. Our gardeners can offer you lawn mowing, hedge trimming, tree pruning and other gardening services.
We have a team of friendly and highly motivated gardening technicians, available in Kingsbury NW9 every day. Our goal is to satisfy our customers and provide them with services of the highest quality.
Nick
has been working for our company for 3 years as a Professional Gardener. With 10 years experience in the field he managed to cover more than 3500 addresses.
Vesko
works for our company for 1 year already. As he is specialised in shaping the bushes, lawn mowing and grass cutting, he helps to numerous Customers to maintain their gardens on daily bases.
Gardening Services Kingsbury from HomeMates
Here are some of the services we offer for your garden:
Green waste disposal
Pressure washing
Lawn aerating
Hedge trimming
Tree trimming
Turf laying
Weeding
Planting
Pruning
Lawn fertilizing
Treatment for the plant and disease
Our team of experienced and dedicated gardeners will keep you informed for every step of the way. We offer you weekly, bi-weekly and one-off services. With us you will get a complete package for your garden at a really reasonable price, every day of the week including bank holidays.
If you have any enquiry or if you would like to get a quote, just give us a call on 020 3745 4377 or send us e-mail on info@homemates.co.uk!
Gardening Services Prices
Here is a list of all the services we provide in Kingsbury
Very soon after booking our team of friendly gardeners will be on your address in Kingsbury NW9. They will be there with all the professional equipment needed, so you don't have to worry about anything. We have state of the art tools like our special lawn mowers. We always keep on our promises and respect our customers and their property.
Our experienced gardeners are experts in troubleshooting the brown lawn spots. They determine the reason that caused this problem and recommend the best approach. In most cases brown spots are due to fungus. The fungus make the grass brown and rust in colour. In this case the gardeners are most likely to use some fungicide and perform aerating of the soil to put more air to the roots.
Aerating will also help the water evaporate because moisture is the main reason for growth of the fungus and the spread of diseases.
Professional Gardening in Kingsbury NW9
If your lawn needs reseeding, our gardeners will work the area up. They will remove the old dead grass and prepare the bed for the new seeds by adding a mixture of turf and sand. They can also remove the small weeds between the patio tiles. You can trust our experienced gardeners for everything related to your garden – from A to Z.
We are truly the best choice; what you get is a team of honest hard working gardeners and services, provided at a fair price. We are here in Kingsbury NW9 every day. Don't hesitate and give us a call now.