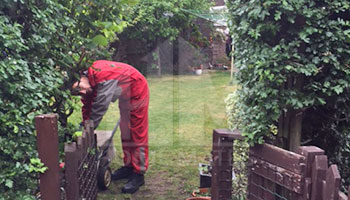 A garden looks beautiful with variety of flowers but it is a result of hard work put in by the gardener. You may have your place for gardening and possibly no time to do so. We are the specialists in gardening services in London. We help to maintain your garden, and our trained professional gardeners know what the best is for you garden and advise you accordingly. We help in planting, watering and irrigating your garden. We offer various plants for your lawn and garden and our gardening services are one of the best in London. Call us and let us know your requirements.
Nick
has been working for our company for 3 years as a Professional Gardener. With 10 years experience in the field he managed to cover more than 3500 addresses.
Vesko
works for our company for 1 year already. As he is specialised in shaping the bushes, lawn mowing and grass cutting, he helps to numerous Customers to maintain their gardens on daily bases.
Gardening Services Catford from HomeMates
We operate several crews of gardening experts across the London city of the United Kingdom. Our expert gardening teams are able to handle all types of gardening jobs, however complex the jobs are. Since our teams of gardeners are operated from our Catford, SE6, London based head office, if you have any doubts about our services or you want to personally meet our staff and gardening technicians, you should visit our head office. Although, there are some more offices of our firm in London, potential London based clients usually prefer to visit our head office in order to gather information about our gardening packages.
If you have any enquiry or if you would like to get a quote, just give us a call on 020 3745 4377 or send us e-mail on info@homemates.co.uk!
Gardening Services Prices
We provide more services in Catford
The gardening services which our company has will make you reconsider the idea of having a garden in your property. Our certified experts can help with the planning and further work on the project in your home. They will also assist with the maintenance of the newly created garden for as long as you like. The best part is that the gardening services of our agency are considerably affordable which makes them perfect for every household. The removing of the weed and the maintenance of your lawn are also perfect jobs for the gardening experts of our agency. Call them now in Catford, SE6 for details.
Professional Gardening Catford, SE6
We are into gardening and we are admired and recognised for our superb gardening and lawn maintenance services that are regularly delivered to the London based commercial and residential property owners. A number of interesting services are available at our office which is well placed in Catford, SE6 part of the London city We supply you the best local gardeners who can assist you in taking care of your lawn or garden. They can carry out the required tasks such as weed and pest control task, top dressing, aeration, fertilising, turf laying, coring, repair, rubbish removal, garden clearance, and so on.