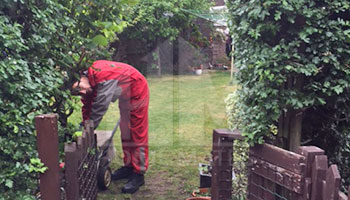 HomeMates provides various gardening services in Chiswick, W4. Our gardeners can offer you lawn mowing, hedge trimming, tree pruning and other gardening services.
Our wide range of gardening services is the quickest and easiest way to maintain a lovely garden. We are a professional company, based in Chiswick, W4. Our friendly and multi-skilled experts are completely dedicated to perfection, so we guarantee you amazing results.
They use their own equipment so you don't have to supply them with any materials. Our prices are affordable; they are based upon your individual requirements.
Nick
has been working for our company for 3 years as a Professional Gardener. With 10 years experience in the field he managed to cover more than 3500 addresses.
Vesko
works for our company for 1 year already. As he is specialised in shaping the bushes, lawn mowing and grass cutting, he helps to numerous Customers to maintain their gardens on daily bases.
Gardening Services Chiswick from HomeMates
Gardening services in Chiswick, W4, London is what our gardening company is offering you. Our activities are available for:
Home gardeners and yards
Business buildings
Office green areas
If you have any enquiry or if you would like to get a quote, just give us a call on 020 3745 4377 or send us e-mail on info@homemates.co.uk!
Here is a list of all the services we provide in Chiswick
Gardening Services Prices
Having a beautiful garden is the best way to improve the look of your property. Our company offers wide range of gardening services available in Chiswick, W4 and all across London. We work fast but efficiently. Due to our broad experience, we know how to transform your outdoor space into beautiful garden. Our qualified gardeners work both during the week and on weekends, well-prepared to meet your expectations.
They use the best products and equipment to perform their job. Take care of your garden – book your gardening service now!
We are not only lawn mowing and tree pruning company, though we are really good at this – you may check with all our customers, but we fertilize, we refresh and we care for all plants.
Professional Gardening in Chiswick, W4
Our services are available every day of the week and our prices are affordable for everyone.
Call and see by yourself.
We work seven days a week so we are ready to meet all your specific needs at the time most convenient for you!
For the perfect garden you need a lot more than a lot of love for flowers. You will need special knowledge and skills in order to prune the trees, to trim the hedges and to mow the lawn in the right way, the right height and when it is needed. Also for the flowers you may need special fertilizers.
In Chiswick, W4, London our professional gardening services is all you need to have your garden the way you want it – tidy, blossoming and wonderful.