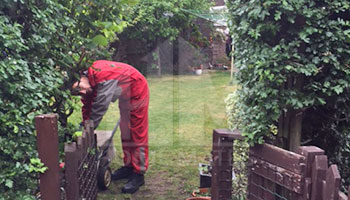 HomeMates provides various gardening services in Brixton, SW2. Our gardeners can offer you lawn mowing, hedge trimming, tree pruning and other gardening services.
When it comes to maintaining a lovely garden, it is definitely best to use professional service. Our company has been offering the most reliable gardening services in Brixton, SW2, where we are situated and have been operating for years. We cover the entire area and our excellent work can be seen anywhere across the district.
Nick
has been working for our company for 3 years as a Professional Gardener. With 10 years experience in the field he managed to cover more than 3500 addresses.
Vesko
works for our company for 1 year already. As he is specialised in shaping the bushes, lawn mowing and grass cutting, he helps to numerous Customers to maintain their gardens on daily bases.
Gardening Services Brixton from HomeMates
With their help, it is easy to enjoy a wonderful and well-maintained garden. Our gardening services in Brixton, SW2 include a number of options, giving clients the chance to have any gardening work done by the best specialists in the business. Some of the solutions we offer for your garden are:
Regular garden maintenance
Mowing
Hedge cutting
Washing of patios
Weed removal
The agency was established many years ago with the main intention to provide customers with ideal gardens and give them a professional hand in maintaining them. We have many years of experience and work with the most skilled professional gardeners on the market. Our company has hired only true experts, who are certified and have the needed skills to carry out their tasks perfectly and smoothly.
If you have any enquiry or if you would like to get a quote, just give us a call on 020 3745 4377 or send us e-mail on info@homemates.co.uk!
Gardening Services Prices
Here is a list of all the services we provide in Brixton
With our team of amazing gardeners, we have always managed to achieve brilliant results that give our customers the chance to enjoy wonderful gardens without spending any time or effort on maintaining them. Our gardening services are designed to fit many different types of gardening work and are ideal for both small private gardens and large commercial purposes as well.
Professional Gardening in Brixton, SW2
We have all it takes to provide every single client of ours with the garden of their dreams in the most professional possible way. Our gardeners in Brixton, SW2 are supplied with high-quality equipment, which helps them to perform flawlessly and achieve results that meet the highest expectations. To keep our services available to anyone, we offer low prices that our customers can easily afford without this affecting their budgets. Our company has been proving for years that affordability and excellent work can cooperate in one professional service, giving clients the opportunity to benefit in multiple ways.
You are just a step from having your garden taken perfect care of by amazing professionals, who can cope with every task efficiently and timely. All you have to do is to give us a call and we will arrive to your place at a convenient for you time. For more information, please don't hesitate to contact our customer support centre, where our friendly agents will provide you with all the info you need.