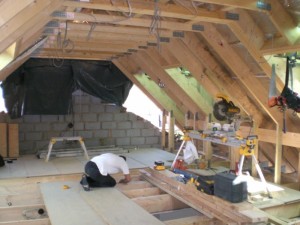 Professional loft conversion services in Brixton, SW2 provided by HomeMates. Increase the living area of your house with our loft conversion service. Call now!
For professionally done renovations of your additional space, we are welcoming you to benefit from the exclusive offers for loft conversion, provided by our experienced company in Brixton SW2. We possess the right motivation and skills to perform every procedure and construction work in a thoroughly professional manner and in the fastest possible way.
We have established connections with architects and other specialists that give valuable advice to all of the customers. No matter of the day, our dedicated employees can make a suitable appointment with you to discuss all of your preferences. We give you guarantee that we will plan and organize your loft conversion in an excellent and fast way.
Contact HomeMates at 020 3745 4377 or at info@homemates.co.uk.
Building Services Prices
The prices can vary greatly depending on the size of the property and materials used. We strongly recommend to fill in the form or call us for a free quote.
Loft Conversion in Brixton from HomeMates
You can be sure that thanks to our loft conversion you will have your place renovated in a modern and suitable way. Find us in Brixton and book our loft conversion to receive the following things:
Complete planning and organizing of the loft conversion
Valuable advice for the design of the space
Providing of all the decorations and construction work that are required
Trained and committed team of workers
Very convenient working hours
Easy booking
Reasonable pricing
Here is a list of all the services we provide in Brixton
If you really want to receive professionally done loft conversion, we are indisputably the right company for you. Our employees can effectively plan and organize all the details of the loft conversion as soon as they make a thorough inspection of the space. For all the decorations and construction work, the employees will use carefully chosen equipment of tools and machines that will guarantee the best final results. If you wonder about the design of your loft conversion, we will be happy to offer you our fresh and innovative ideas, suitable for your place of living.
Loft Conversion Services in Brixton SW2
We assure you that our loft conversion in Brixton, SW2 is second to none because in it we include unique and modern approaches of working that will make your space look impeccable after we finish with all the procedures. You can benefit from our reasonable prices for loft conversion that we currently offer. Apart from this, we have prepared great offers for our revered customers and you can learn more for them through our customer support centres. Choose the quality and professionalism, combined with comprehensive attitude and punctuality in every detail. We are expecting your phone calls from Monday to Sunday.