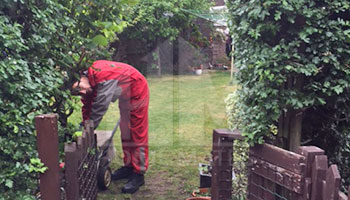 We are the leading provider of lawn & garden maintenance services in London, UK. Since the master gardeners of our company can execute all gardening chores for your garden, so, you can get the perfect solution for your all types of gardening requirements. Our firm's goal is to provide the best lawn care & garden maintenance services to our clients; we would not only focus on giving you a garden maintenance service but we would also focus on improving the appearance of your property and giving you a service that matches both your budget and your lifestyle.
Nick
has been working for our company for 3 years as a Professional Gardener. With 10 years experience in the field he managed to cover more than 3500 addresses.
Vesko
works for our company for 1 year already. As he is specialised in shaping the bushes, lawn mowing and grass cutting, he helps to numerous Customers to maintain their gardens on daily bases.
Gardening Services Deptford from HomeMates
In case you search for qualitative and perfectly done gardening services, do not hesitate to contact our reliable company. Currently located in Deptford, SE8, we offer customized decisions for maintaining the excellent look of your garden. We combine modern and innovative technologies, thanks to which we can promise the best final results. Our equipment of tools and fertilizers is of a first class quality and we work in a careful manner because we do not want to damage the surface of the garden. Contact our committed gardeners 7 days per week to book professional mowing, trimming and fertilising for your garden.
If you have any enquiry or if you would like to get a quote, just give us a call on 020 3745 4377 or send us e-mail on info@homemates.co.uk!
Gardening Services Prices
We provide more services in Deptford
The name of our gardening services company has become a trusted name in the field of property management, and law & garden maintenance. We have been giving these services to the London residents for over 10 years. Our head office that is located in Deptford, SE8 area within the UK capital region, is able to supply proficient, local gardeners to any location within the London city – our workers are available 24/7. You just have to connect with our customer care executives and correctly specify your needs and you will be given the quickest gardening and lawn maintenance service by our proficient workers.
Professional Gardening Deptford, SE8
We are into gardening services business and we supply trained, experienced, professional gardeners to the London based property owners. Being a London citizen, you can enjoy our much sought after gardening services – we provide a wide variety of gardening services all over the London city. We cover London locations Deptford, SE8. Most of our gardeners are locals, so you will avail an impressive gardening service from a local worker who might be aware about the right procedures to take care of the plants that are typically grown in the soil of your area – your plants will get nice treatment.