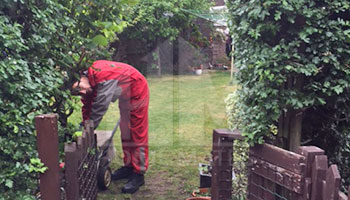 HomeMates provides various gardening services in Maida Hill, W9. Our gardeners can offer you lawn mowing, hedge trimming, tree pruning and other gardening services.
The wide range of gardening services, provided by our professional company, is the best way to get and maintain a beautiful garden. Available in Maida Hill, W9, and all areas of London, we offer highest quality services at the most competitive prices. Our main goal is to completely satisfy our customers, so we are well-prepared to meet your requirements.
Nick
has been working for our company for 3 years as a Professional Gardener. With 10 years experience in the field he managed to cover more than 3500 addresses.
Vesko
works for our company for 1 year already. As he is specialised in shaping the bushes, lawn mowing and grass cutting, he helps to numerous Customers to maintain their gardens on daily bases.
Gardening Services Maida Hill from HomeMates
Check our services tasks:
Professional Hedge Trimming
Landscaping and Garden Design
Seed Planting
Turf Laying
Garden Edging
All our qualified gardeners have the required experience to perform the service.
If you have any enquiry or if you would like to get a quote, just give us a call on 020 3745 4377 or send us e-mail on info@homemates.co.uk!
Here is a list of all the services we provide in Maida Hill
Gardening Services Prices
Searching for gardening services is usually tiresome, because you do not want a wide variety of services, but some specific services for your garden; you do not want professional gardeners but people that love gardening and understand the needs of the plants and how to deal with them; you may not want flexible hours, but for sure availability in weekends.
Well, you can stop the search, in Maida Hill, W9, London we are your gardening company. For any additional questions, please do not hesitate to contact us.
Professional Gardening in Maida Hill, W9
Taking care of your garden may be a boring task. Enjoy your free time and let us do the work!
We are a well-known company, situated in Maida Hill, W9. Our prime goal is to provide first class gardening services to all our customers in London. We offer wide range of services such as lawn mowing, hedge trimming and many other gardening solutions at the lowest prices. Our experienced experts are ready to meet all your expectations at the time most convenient for you. If you require any specific information about our offers, don't hesitate to contact us!
In Maida Hill, W9, London you want high qualified gardening services that will make your life easier and your garden a personal paradise for you – a place where you can spend some joyful moments and that will make you admire it. For this purpose you need the lawn well mowed; the hedges nice trimmed and the flowers blossoming.
They work every day, available to assist you anytime you need. For any further information feel free to contact us! Our gardeners can take good care of this and everything else, just call us and book an appointment. We will perform miracles in your garden.