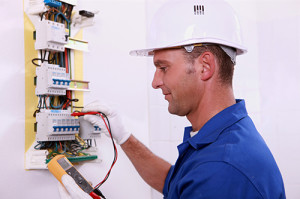 HomeMates provides wide variety of local electrical services in Maida Hill, W9 for your home and office. Our qualified electricians will solve any electrical problem.
Our professional electricians can fix minor and bigger problems with the electrical system in your home. We can ensure that your electrical system is functioning properly and that you won't have to worry about your safety or about the safety of your real estate property in the future.
The procedures which our agency will offer you the moment you visit us in Maida Hill will cover the most common and any unusual problems. You can be sure in one thing, and that's that you can depend on our electricians from Monday to Sunday, and even get a hold of them during the holidays.
Call us on 020 3745 4377 or send us an e-mail at info@homemates.co.uk to get a free quotation.
Electrical Services Prices
Electrical Services Maida Hill From HomeMates
Our professionals are:
Very competent;
Friendly and dependable;
Well-mannered;
Prepared to work in different conditions;
Carrying tools and professional instruments
Here is a list of all the services we provide in Maida Hill
The professional electricians who work in our company are very competent in their sphere which makes them the perfect specialists for the needs of your home. When you need repair of certain parts, changing of light bulbs or installation of various devices in your real estate property, you can call our electricians who are available every single day of the working week and during the weekends too.
Professional Electricians Maida Hill, W9
Our electricians are the best in Maida Hill, W9 and also in the rest of the city for several simple reasons. The first one is that they already have many years of experience in fixing different problems with the electrical systems in our customers' real estate properties. They can cope with many and specific problems which are usually hard to be fixed without the necessary knowledge. The second one is that our electricians are very dependable and will assist you immediately even in case of an emergency.
The good qualities of our specialists are many but all of them show only one thing, and that's that you can trust our experts for the repair of the electrical system in your home, as well as for the installation of different necessary devices. Our excellent electricians in Maida Hill will make your worries disappear the moment you contact them. For any specific problems with the electrical system in your home or office, our specialists are always at your disposal. Contact them by coming to our agency's office in London or by making a call to one of our customer support centres in the city.