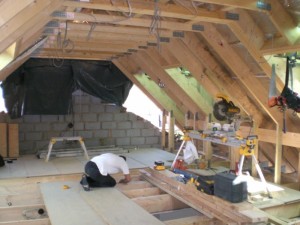 Professional loft conversion services in Maida Hill, W9 provided by HomeMates. Increase the living area of your house with our loft conversion service. Call now!
It is our primary goal to satisfy our customers with what we do. This is why we have made sure to employ teams of excellent architects, builders, and designers in Maida Hill, W9.
They will certainly use as much of your loft as possible and turn it into a nice and functional room with modern design. Feel free to tell them about your ideas and you need to be sure that your demands will be fulfilled.
Contact HomeMates at 020 3745 4377 or at info@homemates.co.uk.
Building Services Prices
The prices can vary greatly depending on the size of the property and materials used. We strongly recommend to fill in the form or call us for a free quote.
Loft Conversion in Maida Hill from HomeMates
Choosing us means to opt for:
Excellent quality of work
Cordial attitude
Unparalleled swiftness and attention to the tiniest detail
Reasonable prices
Twenty-four-hour operating customer support centre
Here is a list of all the services we provide in Maida Hill
Contact our customer support centre and ask for more information about what our service involves. We operate daily and we will gladly arrive at your place no matter whether you are located in Maida Hill, W9 or anywhere in London.
What is more, we offer the widest variety of design options and we approach every single of our customers in an individual manner. We also guarantee that our builders stick to the set construction hours, so as to spare you any inconveniences. In addition, they will take all the necessary precautions, so as to ensure your safety as well as that of your house. And last but not least, we only opt for first-class quality materials, for we need to know that our constructions are solid enough to withstand all kinds of weather conditions and natural disasters.
You can find HomeMates also in Notting Hill, Shepherd's Bush and the rest of the London as well.
Loft Conversion Services in Maida Hill, W9
If you are interested in what we offer, feel free to book our loft conversion in Maida Hill. Quick, careful, attentive – this is what distinguishes our builders from all the other in the industry. They all work ardently and strive for all our customers' satisfaction. If you want the only true professionals to take care of your home, contact our call centre. You will be paid the necessary attention no matter what time of the day it is, for you deserve the best.