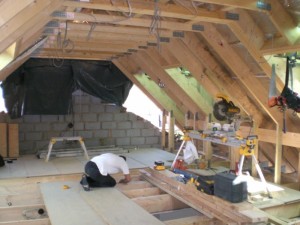 When you plan to adjust your attic and make it a living place you certainly need HomeMates' loft conversion specialists. An architect will help you decide and determine everything concerned with loft conversion.
He can consult you and be useful in :
planning the purpose of your loft
deciding for what to use your space
adding an additional bathroom in your loft
determining how long will a loft conversion take
assessment of the needed budget
providing loft designs to choose from
determining the proper locations of the electrical points
Contact HomeMates on 020 3745 4377 or at info@homemates.co.uk.
Building Services Prices
The prices can vary greatly depending on the size of the property and materials used. We strongly recommend to fill in the form or call us for a free quote.
Temporary staircases and ladders aren't appropriate for permanent additional living space, so a more expensive and long lasting solution should be applied. When planning your loft conversion you need to decide what purpose you will use it for. Our architects will take measures and estimate the height of the ceiling. It needs to be at least 2.3 metres heigh to have enough space, without causing inconveniences.
Steeper tilts of the roofs are easier for loft conversion. Dormer windows extends beyond the roof and can add extra space. They can be with the proportions of a window or can cover a considerable part of the roof – encompassing two or more windows. Our loft conversion technicians will construct from the oblique part of the roof in order to make the rim lift with outer wall.
When adding an extra bathroom in your loft our engineers will calculate if your system will cope with the more pressure needed to supply the upper floor with hot and cold water. They will measure the capacity of the room and how and where will the new bathroom be integrated in. You may also get advantage of bulk pricing if you additionally book house extensions, basement conversions or kitchen fitting.
The loft conversion technicians will estimate if a double bed can be gathered, where can be situated and if there is enough space above it, making it suitable for the room. They will decide where to place the electrical points before construction, saving you time and money.