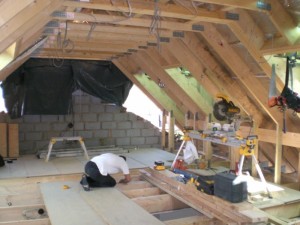 Professional loft conversion services in Camden Town, NW1 provided by HomeMates. Increase the living area of your house with our loft conversion service. Call now!
We can offer you a professional loft conversion which will expand your house significantly. As a reputable company, we will make sure that we give you the best offer for expert loft conversion. We will also offer you a price which can't be found anywhere else in Camden Town NW1 or in the city of London.
Our agency will provide everything that will be necessary for the execution of the procedures and we will choose materials and other supplies of the best quality. With our state-of-the-art professional equipment, our employees will carry out the procedure and will finish it before you even know it. You can contact us to make a reservation over the phone.
Contact HomeMates at 020 3745 4377 or at info@homemates.co.uk.
Building Services Prices
The prices can vary greatly depending on the size of the property and materials used. We strongly recommend to fill in the form or call us for a free quote.
Loft Conversion in Camden Town from HomeMates
Except for the reasonable price rates, we are also a preferred company because of:
The hard work of our professionals and their attention to the details;
Our advanced equipment of instruments and special technologies;
Our excellent and very effective techniques for fast conversion of every loft;
The low-cost services that we offer that anyone can afford;
Our very flexible work schedule
Here is a list of all the services we provide in Camden Town
The people from Camden Town NW1 and other areas of London who contact us are mostly worried about the sum of money which would cost them a professional loft conversion service. Well, you shouldn't be worried when it comes to the price of the procedures offered by us because we offer the lowest ones in London. Most of our clients don't believe it when we tell them how affordable our loft conversion services are.
Loft Conversion Services in Camden Town NW1
Providing your real estate property with loft conversion will change your life and the life of your family. All of you will feel more comfortable because you will have more space which you can use for a variety of things. We will leave this decision to you and will focus our efforts on the planning and realisation of the loft conversion service in your property in Camden Town NW1 or any other district of London.
To reach us, you can make a call to the customer service operators that work in our call centres 24/7. You can visit our main office in London as well, in case you want to meet with us and ask for some details about our loft conversion services that are not clear. You can come in our headquarters through the entire day and we assure you that you will find us without any problems. We will be expecting you.