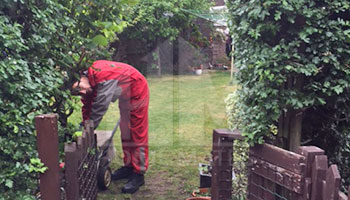 HomeMates provides various gardening services in Camden Town NW1. Our gardeners can offer you lawn mowing, hedge trimming, tree pruning and other gardening services.
If you want to have a nice garden that attracts passers-by and neighbours, you should think about hiring our gardening services. We offer a wide range of options for your outdoor area that are inexpensive and very creative.
Nick
has been working for our company for 3 years as a Professional Gardener. With 10 years experience in the field he managed to cover more than 3500 addresses.
Vesko
works for our company for 1 year already. As he is specialised in shaping the bushes, lawn mowing and grass cutting, he helps to numerous Customers to maintain their gardens on daily bases.
Gardening Services Camden Town from HomeMates
Services on offer at our company in Camden Town NW1:
We provide all the landscaping you need
We will trim the hedges and prune the trees
We'll keep your grass tidy and thick
Our company is very respected and popular in Camden Town NW1, we have a great reputation and significant experience in horticulture.
We will create a garden according to your desires and criteria or we can maintain your existing garden all year long. Whatever you need, we can do it. We will be very pleased to receive a call from you anytime now. Be sure to get in touch with us as soon as you can.
If you have any enquiry or if you would like to get a quote, just give us a call on 020 3745 4377 or send us e-mail on info@homemates.co.uk!
Gardening Services Prices
Here is a list of all the services we provide in Camden Town
Our gardening services will appeal to you because we not only offer very good quality, but we also have a wide range of options for you, from tree pruning to lawn mowing. We are available Mondays through Fridays, on bank holidays and during weekends. Get to know us better by dialling this number and we'll consult you on the options you have.
We can totally transform your garden or create one from scratch according to your individual needs. We will follow your requirements and make sure you get the garden of your dreams.
Professional Gardening in Camden Town NW1
We will deter weeds from living in your lawn by cutting the grass regularly. Our lawn mowing service will improve the look and condition of your grass, no matter if your lawn is big or small. You won't have to worry about this gardening task anymore. Call in our experienced gardeners every week or as often as you need and they will keep your lawn at its best.
Furthermore, we can remove dead branches and leaves, clearing your garden to make it tidier and more organised. Anything you wish – we have it covered.
You should know that you can use our gardening services if you are based somewhere in Camden Town NW1 or nearby. We are ready to tackle all the gardening tasks for you at a convenient day and time. You can count on us on a regular basis. Give us a try and we will give you a hand. Get in touch with us for additional information.