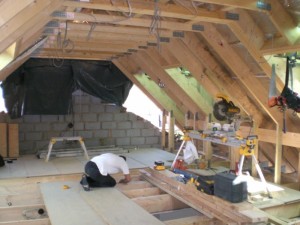 Professional loft conversion services in Fulham, SW6 provided by HomeMates. Increase the living area of your house with our loft conversion service. Call now!
If you search for the a professional loft conversion that is available in Fulham, SW6, you can count on the professional services of our dedicated and experienced company. We will help you to make your additional space suitable for living by offering you a wide range of designs and options for the loft conversion.
You can turn to the services of our company both during the week as well as at the weekends and we assure you that our staff will be glad to collaborate with you. We have worked hard through the years to acquire the needed experience and we are sure that we can accomplish every procedure without difficulty.
Contact HomeMates at 020 3745 4377 or at info@homemates.co.uk.
Building Services Prices
The prices can vary greatly depending on the size of the property and materials used. We strongly recommend to fill in the form or call us for a free quote.
Loft Conversion in Fulham from HomeMates
Our loft conversion is professional and second to none because it is well organized by our team of employees who have been trained and prepared in the best possible way.
What we will offer within our loft conversion in Fulham is the following:
Organization and planning of every detail
Assistance for the design of the loft conversion
Very innovative and excellent approaches for working
Professional and highly motivated team of workers
Great offers and affordable prices
Highly motivated and qualified team of workers
Customer support centres for any further details
Here is a list of all the services we provide in Fulham
If you want to have your additional space renovated in the best possible, we are, without any doubt the right company for you. Our employees are ready to take up with the whole organization and planning of the loft conversion for you. You can be sure that we work due to all the standards and that we will provide our loft conversion with the most modern and reliable equipment. Our workers have been specially trained and instructed how to manage with every task on time and in a flawless way.
Loft Conversion Services in Fulham, SW6
You can make a contact with us in Fulham, SW6 or you can book our loft conversion within our friendly and comprehensive staff that will answer to all of your questions, concerning our loft conversion services. For more emergency cases, we can offer you great availability,at any time of the day. Benefit from our second to none offers and very reasonable prices that we have prepared for you. To stay additionally informed, use our call centres where you can ask your questions about the loft conversion. We guarantee you perfection in every detail and a wide range of designs for your loft conversion.