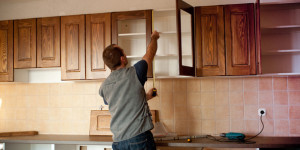 The kitchen fitting services of HomeMates could be a solution in situations when you are moving into a new house or if you have decided to do a complete makeover of your old and already worn out kitchen. We will send you our well-trained professionals who will remove everything from your current premise and will install new cabinets, appliances and other things, leaving you with ideally assembled space for cooking.
Contact HomeMates on 020 3745 4377 or at info@homemates.co.uk.
Building Services Prices
The prices can vary greatly depending on the size of the property and materials used. We strongly recommend to fill in the form or call us for a free quote.
Besides kitchen fitting our experts are specialised in loft conversions, house extensions and basement conversions. All of our workers are insured and qualified so you will receive only top quality services and nothing less than that!
Find Our Kitchen Fitting Services Here:
In the list with professional kitchen fitting services of our company is included:
Assemblage and installation of kitchen cabinets – We have handymen specializing in the assembling of all types of cabinetry, no matter what the material, the size or the model is. A custom-made units will be put together and installed quickly by our experts but in case there is a mismatch with the space in your kitchen, our workers will do what's necessary to correct the cabinets so they fit in an ideal way.
Fitting worktops – Whether you've ordered a worktop made from granite, wood, marble, laminate or some other type of material, you can be sure that it will be perfectly installed in your new kitchen. If the worktops are not previously prepared to fit your kitchen requirements, the experts employed at out company will measure the length of the spaces and will cut the necessary pieces for your future worktop.
Installing sink and appliances – Finally, our employees will take care of the installation of your sink. First, they will measure and mark the location on the worktop where the sink will be placed. Then they will cut through the lines to create a whole for it. After some adjustments, the sink will be connected to the plumbing system and it will be ready for use. If you'd like, our professionals can also install some of the appliances you have purchased in your new kitchen.