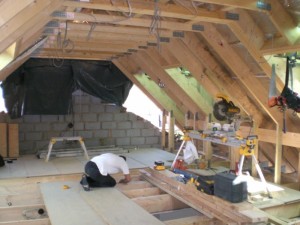 Professional loft conversion services in Greenwich, SE10 provided by HomeMates. Increase the living area of your house with our loft conversion service. Call now!
We are a team of specialists who are based in Greenwich SE10 and specialise in loft conversion. We are here to handle all the steps of your home upgrade to a high standard.
Our loft conversion service can help you create more space at home without the expense and hassle of moving. You can save a lot: from all the headaches that such a project can cause to money, stress and time. Our experts will complete each stage of the process with attention to detail.
Contact HomeMates at 020 3745 4377 or at info@homemates.co.uk.
Building Services Prices
The prices can vary greatly depending on the size of the property and materials used. We strongly recommend to fill in the form or call us for a free quote.
Loft Conversion in Greenwich from HomeMates
With our loft conversion service you can have the comfort and peace of mind throughout the entire process. We are very glad to offer you the following:
Initial visit and on-site consultation
Free quotation on the phone
All works submitted for approval to the authorities in Greenwich SE10
All costs finalised before the building process begins
Every stage of the process carried out to your taste and satisfaction
Here is a list of all the services we provide in Greenwich
We are experienced, we have a lot of knowledge on this topic and we are prepared with the finest equipment. There is no doubt we can transform your attic into the accommodation space you need. Book a service.
First off, it's really important for us to meet you and talk to you in person. What we need to know is how much space you need, what you would love to achieve with your loft conversion and whether your home has the potential for all this. Then we can also share our ideas and consider yours, if you have any, after which we can make the best decision regarding your loft together. It is probably the best moment to think about building and planning regulation issues. Let us handle this our way.
Loft Conversion Services in Greenwich SE10
The next step would be to draw a plan that would provide all the details of the planned loft conversion. At this stage, we can offer you a price. With this step done, we will complete a full survey of your home. It will help us decide what building materials we will need and how long the loft conversion would take. We will be able to offer a more detailed plan to give you an idea of how your finished project will look like.
After we receive all approvals from the local authorities in Greenwich SE10, we can proceed to the final stage of the loft conversion, which is the building process. It includes installation of timber joists, windows, supporting beams; fixing plumbing and electricity issues, extension of loft if applicable, etc. The most important part is, your loft will be done to your satisfaction.
Give us a call to arrange a no-obligation quote and an initial visit from our teams of specialists.