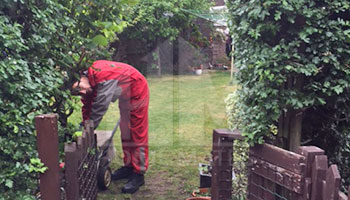 When you are searching for a gardener you want:
Professional approach
Friendly attitude
Availability
Flexibility
Affordable prices
In Greenwich, SE10, London our professional gardening services will give you all this and a lot more – we are offering to all our customers a wide range of gardening services – lawn mowing, tree pruning, hedge cutting, maintenance, tips and other. We perform our services with great professional tools and top quality equipment, special fertilizers and chemicals when needed, advices and wonderful maintenance.
Nick
has been working for our company for 3 years as a Professional Gardener. With 10 years experience in the field he managed to cover more than 3500 addresses.
Vesko
works for our company for 1 year already. As he is specialised in shaping the bushes, lawn mowing and grass cutting, he helps to numerous Customers to maintain their gardens on daily bases.
Gardening Services Greenwich from HomeMates
If you want to keep your garden in a good-looking and blossoming condition, we can offer you our brilliant gardening services. They can ensure you the improvements your plants and garden area need most. You can order lawn mowing, hedge trimming, tree shaping, removing wastes from your garden, creating flower beds, sowing new plants and more. Our qualified gardeners will inspect your plants ans soil and do the necessary corrections in them. We can offer you creating of a more traditional and modern garden design by customer's choice. Use our excellent gardening services, provided in Greenwich, SE10 any time you need them.
Call for further details.
If you have any enquiry or if you would like to get a quote, just give us a call on 020 3745 4377 or send us e-mail on info@homemates.co.uk!
Gardening Services Prices
We provide more services in Greenwich
We are running a gardening services company in Greenwich, SE10, London, which locally provides lawn and garden maintenance services to a wide range of residential & commercial customers across the London city. We are able to provide maximum satisfaction to all our clients whether they want our extraordinary, commercial gardening services deals or just want the standard residential gardening services deals. We are able to quickly deliver fabulous gardening services to all parts of the London city. We are also able to give our exceptional services for low prices; obviously this is an additional benefit of booking us for a professional service.
Professional Gardening Greenwich, SE10
We are into gardening and we are a trusted, accredited supplier of gardening services; we have a gardening and lawn maintenance services company situated in Greenwich, SE10, London. We have been delivering lawn maintenance and gardening services to the indwellers across the London city for over a decade. We have never behaved like a cut and go service. We are able to give you full lawn and garden maintenance services all year round. We would highly impress you with the stunning outcome of our gardening services and you would like to use our lawn maintenance and gardening services for as long as possible.